Congratulations to all the winners of our first ever Virtual Spots Day, and a massive thank you to all those who took part!
KS1 results:
1st place – Ania Collison with 630
2nd place – Ronnie Boyle with 530
3rd place – Rylie Boyle with 533
KS2 results:
1st place – Emily Swinburn with 1090
2nd place – Jack Caseley with 932
3nd place – Ellie Hines with 893
4th place – Lucy Hines with 809
5th place – With 578 - private text sent!
6th place – Florence Collison with 555
Ellie and Lucy enjoyed competing against each other in the Virtual Sports Day challenge!
Ania and Florence had fun doing the Virtual Sports Day tasks!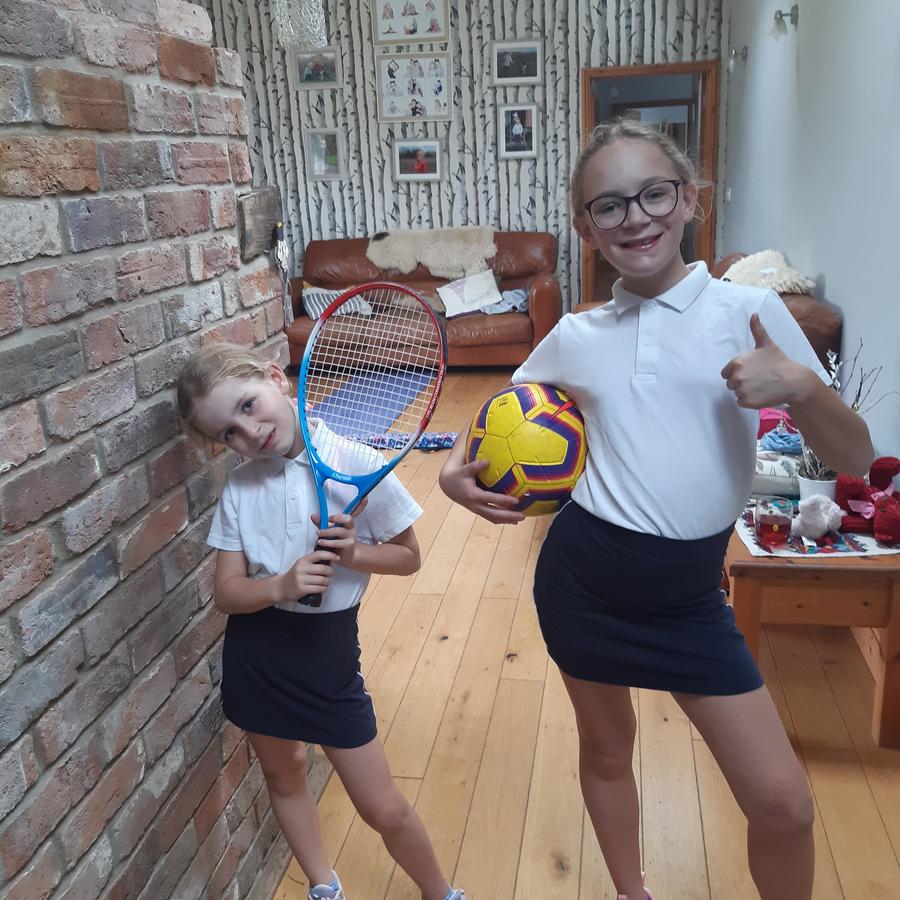 Tamzyn had three practises and roped one of her brothers in to doing it with her!
Bat and Ball 40
Jumping jacks 40
Running Man 10
Mountain Climbers 73
Bounce and Catch 57
Squat Thrusts 14
Balance on one leg 60
Burpees 4
Running high knees 109
Sit ups 14
Speed bounce 41
Tuck Jumps 20
Step ups 22
Throw and Catch 26
Leg kicks 44
Press ups (Knees) 4
Ronnie and Rylie competed against each other to test their fitness, but because of the bad weather recently, they had to do a lot of the tasks indoors. They still had lots of fun doing it though! See the scores, and video, below from their sports day challenge!
Superstar Jack, in Year 3, hasn't let a broken arm and fingers stop him from completing the Virtual Sports Day challenge. It was very sore for him to do the push-ups and mountain climbers, but he managed to do it all! Well done Jack!

Bat and ball - 85
Jumping Jacks - 79
Running man - 18
Mountain climbers - 88
Bounce and catch - 42
Squat thrusts- 20
Balancing on one leg - 60
Burpees - 25
Running with High knees - 85
Sit ups - 36
Speed Bounce - 98
Tuck jumps - 30
Step ups - 112
Throw and catch - 47
Leg kicks - 85
Press ups - 25

Year 6's Lola did all the tasks in the Virtual Sports Day challenge. Well done Lola!
Jumping jacks 78
Mountain climbs 93
Balancing on one leg 60
Burpees 23
Bat and bounce ball 15
Running man 13
Bounce and catch 54
Squat thrust 46
Running with high knees 113
Sit ups 20
Step ups 54
Throw and catch 36
Leg kicks 55
Press ups 35
Total 695
Emily took part in the Virtual Sports Day challenge. She really enjoyed doing it and got involved in all the tasks! Her results are shown below.