"A really good leader of P.E. in an outstanding school for P.E." (Martin Radmore, Norfolk P.E. Advisor May 2015)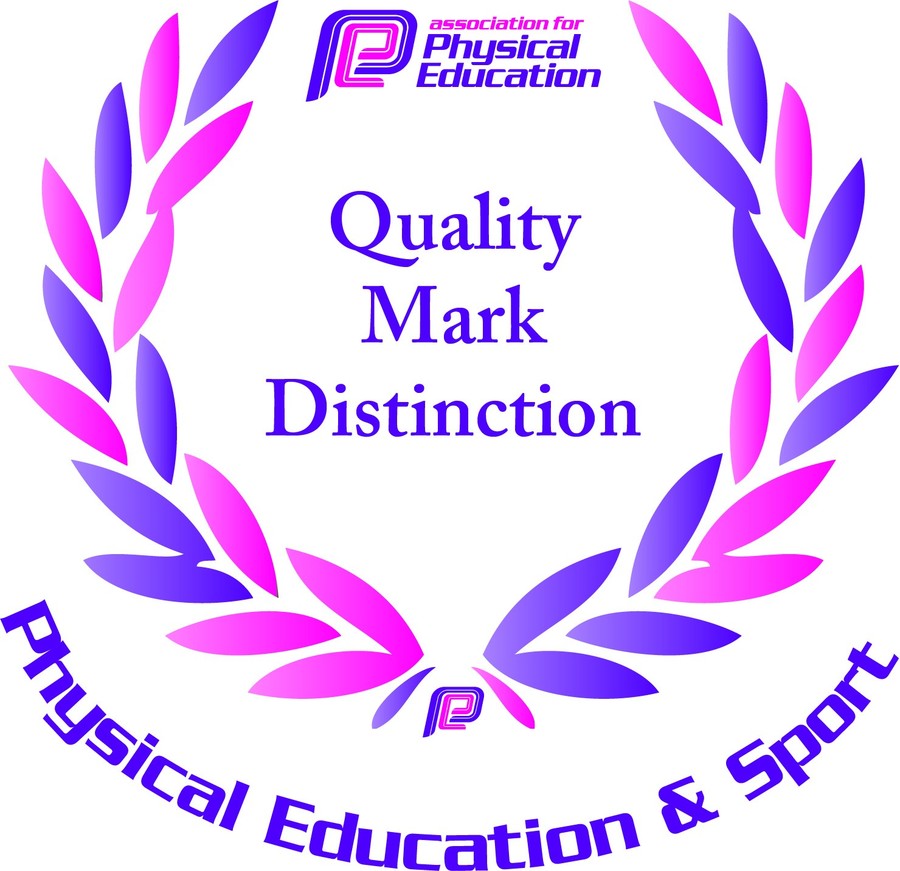 P.E. Vision Statement
At Anthony Curton Primary School we aim to provide challenging and appropriate P.E. lessons that allow children to reach their full potential. We recognise that P.E. and sport have an important role to play in raising standards and narrowing the achievement gap. We believe that positive participation in physical education will leave students with a legacy of success facilitating an active lifestyle.
We promote active participation and lifelong learning through movement centered and knowledge based activities. All activities are inclusive and help to nurture a love for physical activity.
Anthony Curton Primary School offers a range of High Quality opportunities for young people to access Physical education, both within and outside of school hours, and also through competition. We aim to guide youngsters to make healthy choices as part of an active, balanced lifestyle.
"A really positive vision statement - one of the best I've seen" (Martin Radmore, Norfolk P.E. Advisor May 2015)
At Anthony Curton Primary School we have made very effective use of the Sports Grant. We have found that with the additional funding the participation of extra curricular clubs has increased. We are also available to offer a wider range of exciting clubs, which has interested and motivated our pupils.
Currently at Anthony Curton 64% of all disadvantaged pupils participate in extra curricular clubs and activities (63% of children also participate in these). Currently 73% of all Key stage 2 pupils attend extra curricular clubs and activities. Last year there were 138 individual opportunities for children in Key Stage 2 to participate in sporting tournaments and competitions, with 100% uptake.
To ensure the impact of the grant spending is sustainable, we have offered extra sporting opportunities through training a staff member in NPETCS, ensuring high quality P.E. is being delivered throughout the whole school, both in and out of the curriculum. We have also been able to utilise external bodies to provide a more diverse range of sports, before, during and after the school day (E.g. Archery and fencing).
Please see our 2017-18 P.E. Funding report below.
Look at the children below who have managed to gain their 10 mile certificates by joining in with the Golden Mile. Well done!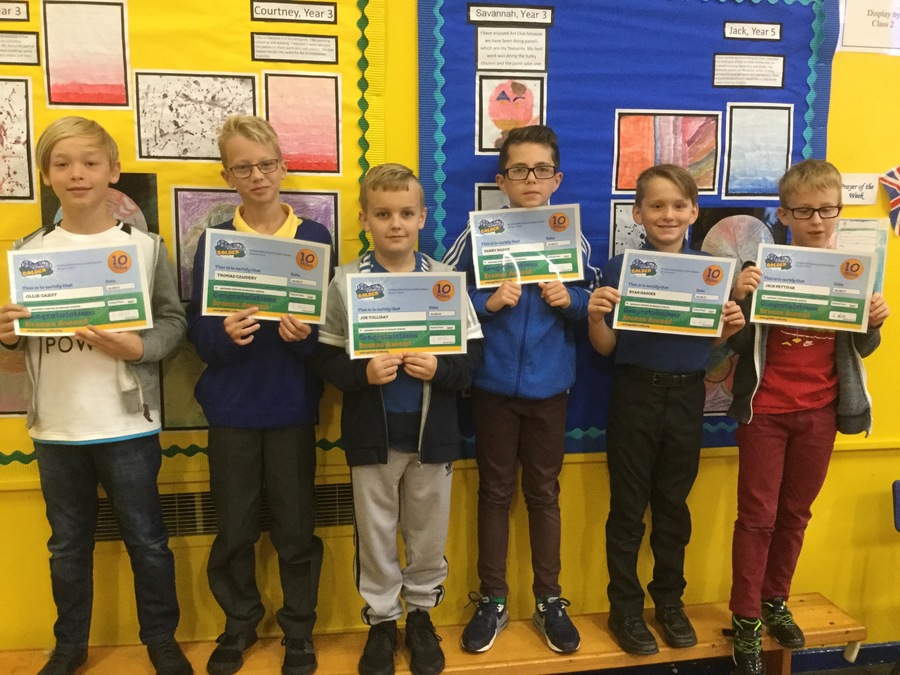 Key Stage 1 had a brilliant sports day where they practised lots of skills and won lots of races! Thank you to all of the parents and other grown ups who came along to support our children.
Once again we had a very successful Sports Day where there were lots of competitive children trying their hardest! The weather was incredibly warm, but the children did brilliantly. Well done to everyone who took part...especially the children in St David's team, who won the Sports Day Trophy!
Our children are very proud of the achievements that they accomplish outside of school as well as inside school. Here are some children who wanted to share some of the sports achievements that they shared with the rest of the school during our weekly Celebration Assembly.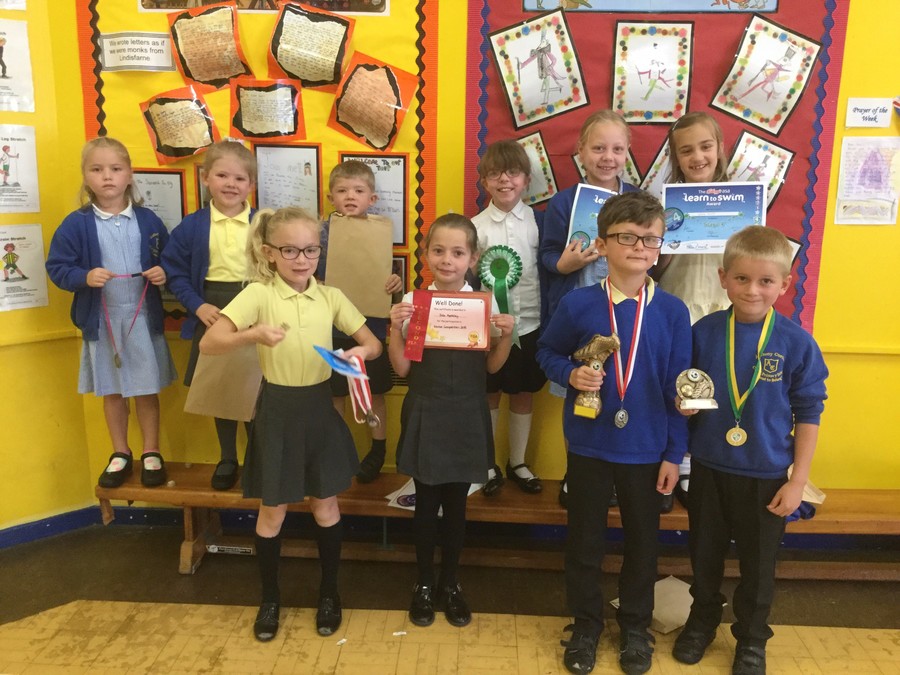 Congratulations to these two boys who have achieved their 10 miles by taking part in The Golden Mile! This is led by Miss Hill during dinner times and is a very popular activity for our youngsters!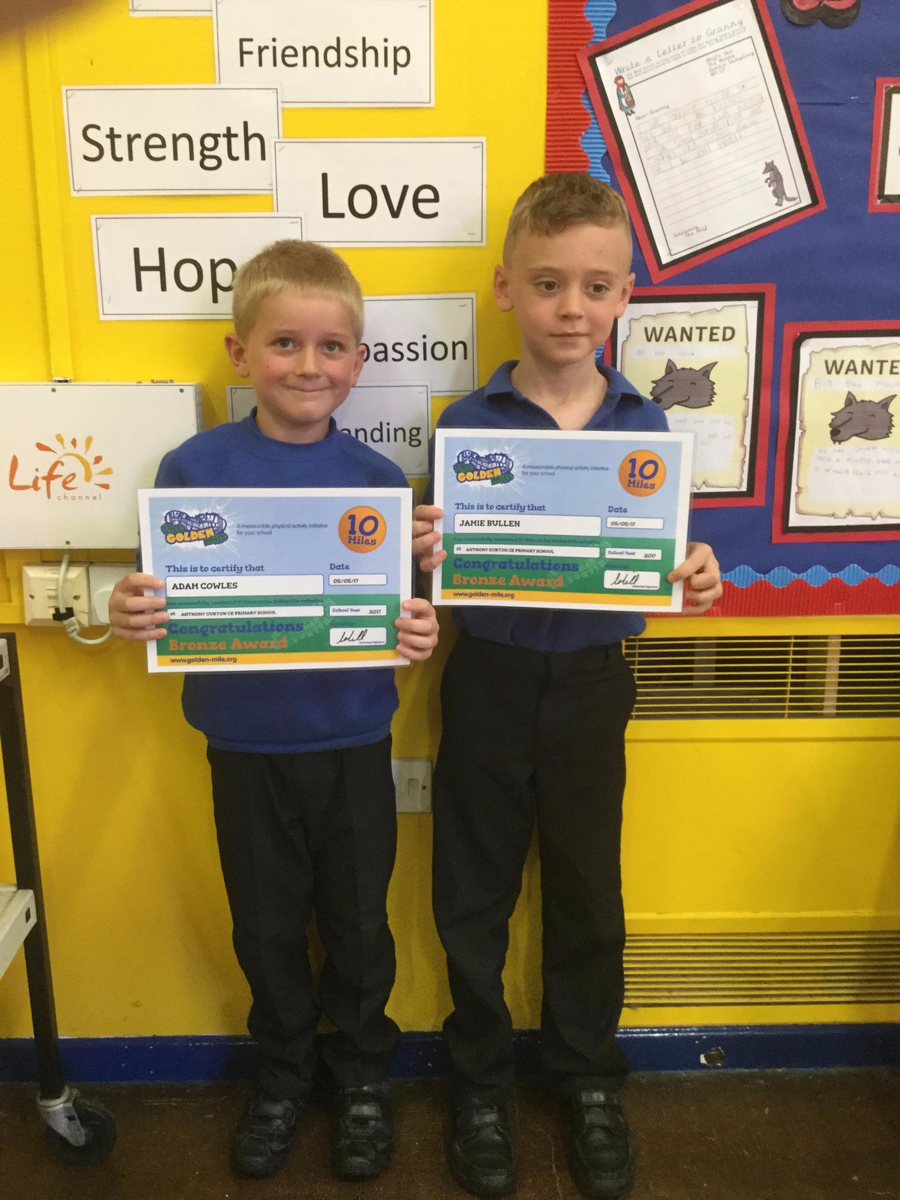 We have lots of horse riding champions in our school!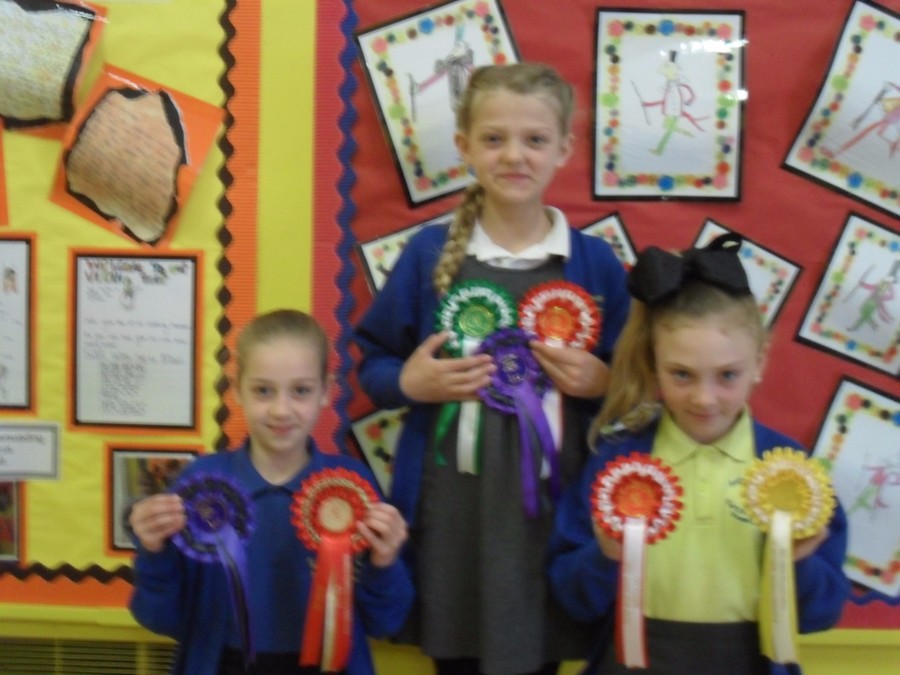 The children from both schools really enjoyed taking part in the cluster netball festival hosted at Tilney. The children were impeccably behaved and displayed some good netball skills.
As we like to celebrate achievements outside of school as well as in, Ruby brought her rosettes from horse jumping in to share in our celebration assembly. Well done Ruby - it sounded like you had to work hard to get these, you should be very proud!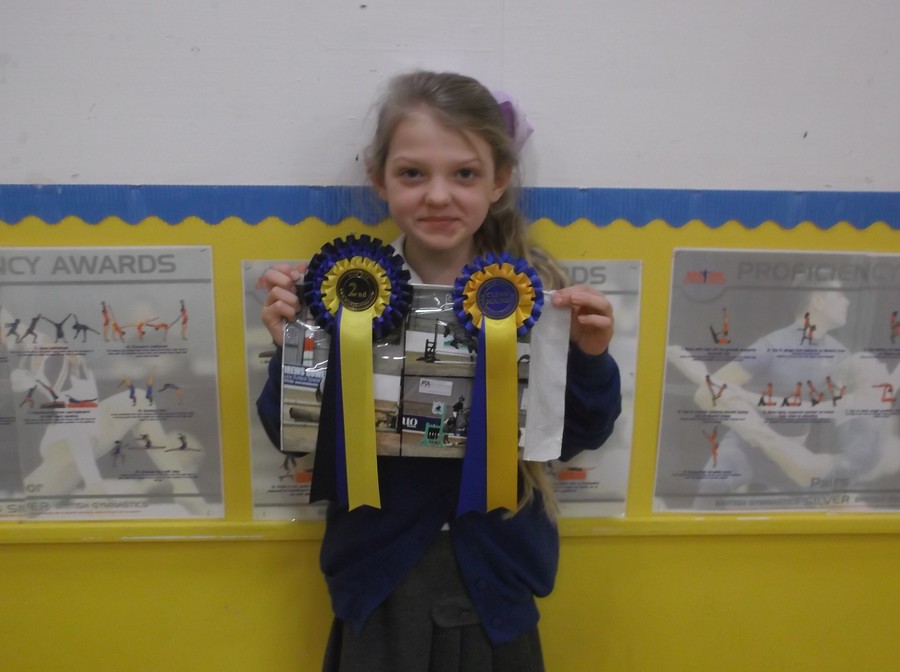 Well done to the girls who took part in the School Sports Partnership Dance Festival, held at Lynnsport. The theme was "Jungle dancing" so our team created a brilliant dance to "The Jungle Book" music. The children had a wonderful time watching other schools perform and were brilliantly behaved!
Well done to our football players who recently visited Emneth School in order to take part in a Smooga competition. The team had a great time playing against lots of other teams - and came third!! Well done - you all played brilliantly and deserve the medals that you won!
Look at our Horse-riding champion, Gemma, pictured below. She took part in the Sunshine Tour at Hickstead and did very well! She is through to the next round after coming in the top 5 of 50 competitors! Well done Gemma - and good luck for your next round!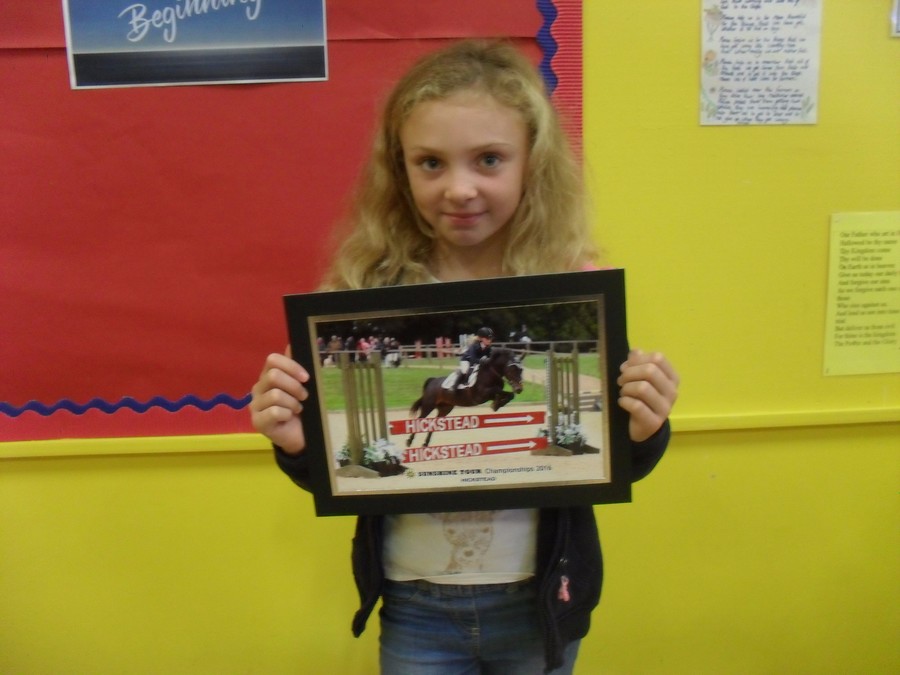 A massive "Well Done" to the children pictured below who took part in the Marshland Cluster Athletics event. They had to take part in both track and field events to get points for their team. They managed to collect enough points to win the whole event! Well done team!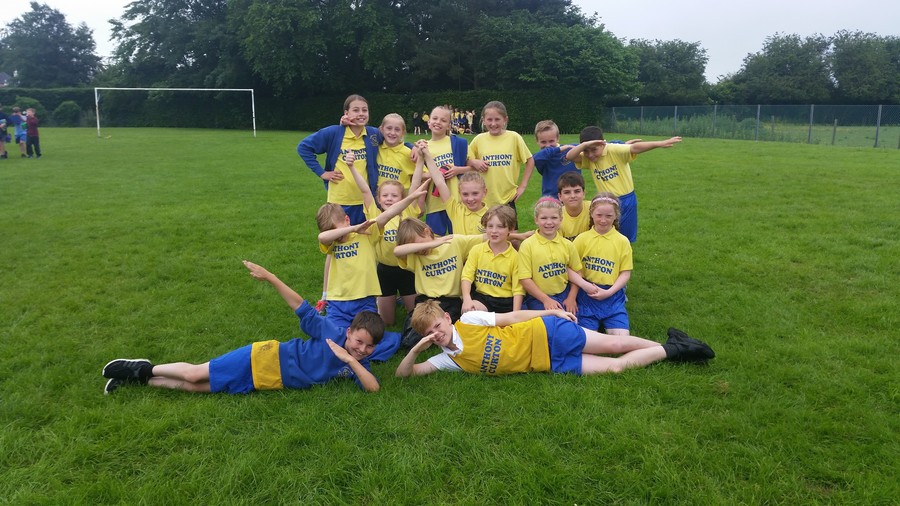 Well done to the children pictured below who represented our school at the Marshland Cluster Mini Tennis Tournament. They played very well and their behaviour was impeccable - thank you for representing our school so well!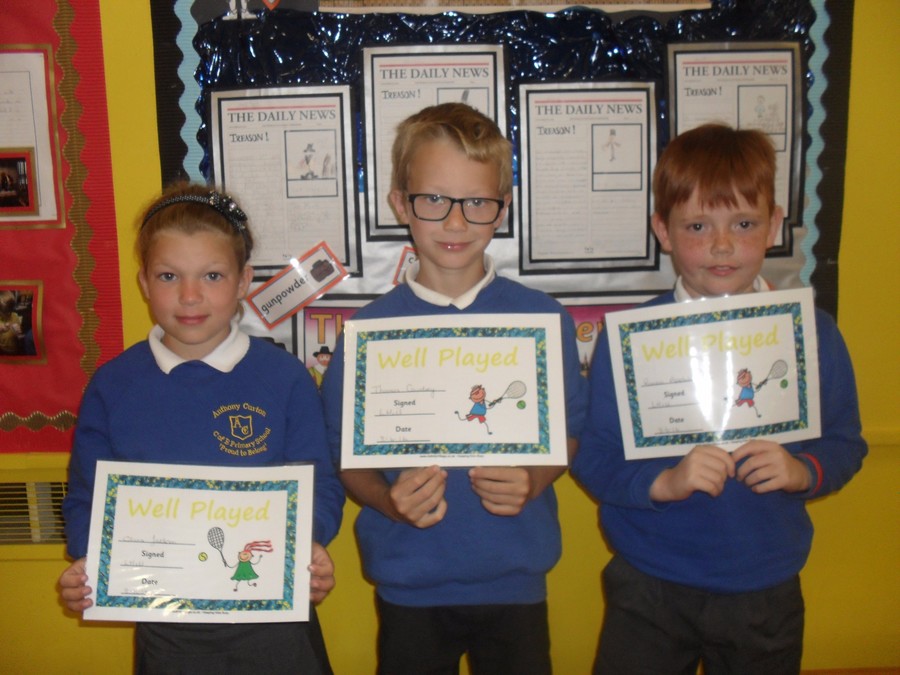 We went to our sister school, Tilney All Saints, for the Marshland Cluster Rugby Tournament recently. It was a lovely afternoon and a very high standard of rugby was played by all involved. We were lucky enough to win the trophy, as we won every game that we played! Many thanks to FOSA at Tilney All Saints who provided refreshments throughout the afternoon for both the adults and children.
Our Tag Rugby Champs!! Well done team!!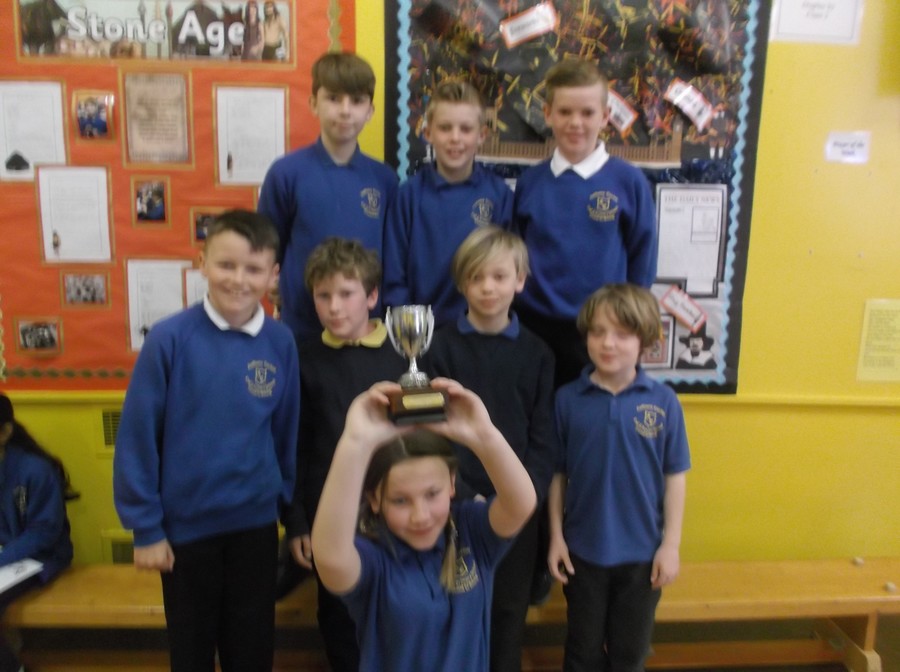 Well done to Alex - our little wakeboarder - who won West Norfolk young Sportsman of the year earlier this week! He got to attend a very posh and formal ceremony to get his award at Kings Lynn Corn Exchange, with KLFM reporting on all of the winners. We are so proud of you Alex!!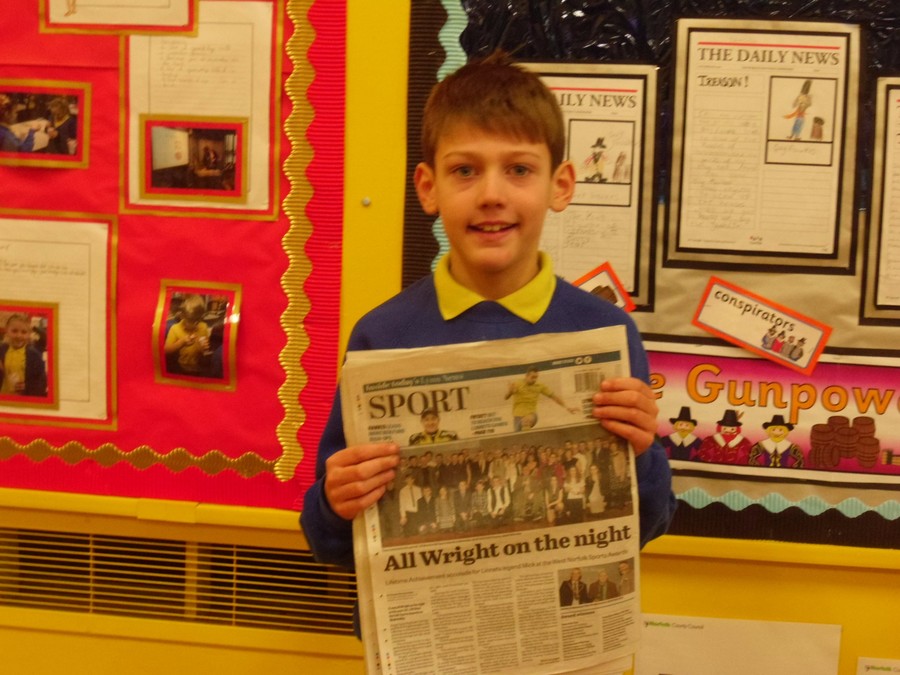 We have a world champion at our school!!
Alex (and his family) have recently been to Abu Dhabi to take part in the World Champion Wake-boarding Competition. Alex took part in the competition with lots of other people under 9 - and came first!!
This skill must run in the family as well because his little sister also took part in the World Champion Wake-boarding Competition for under 13s ...and came third!!
We are so proud of both of them for doing so well - and being so brave! We hope they continue to practise their skill! Well done!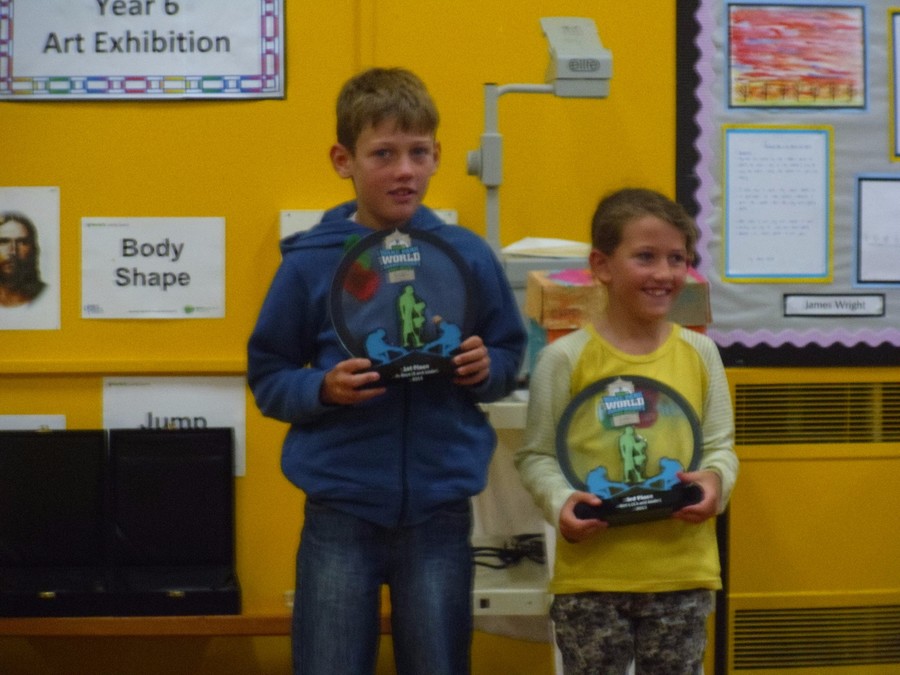 We hosted the Marshland Cluster Speed Stack Competition, which was lots of fun - but very hard! The children all behaved wonderfully and tried really hard, so unfortunately we didn't win...but we will be trying really hard to get the trophy back next year!
Well done to all of these children who have been trying very hard in Gymnastics Club. All of your hard work has paid off - and we are all very proud of you!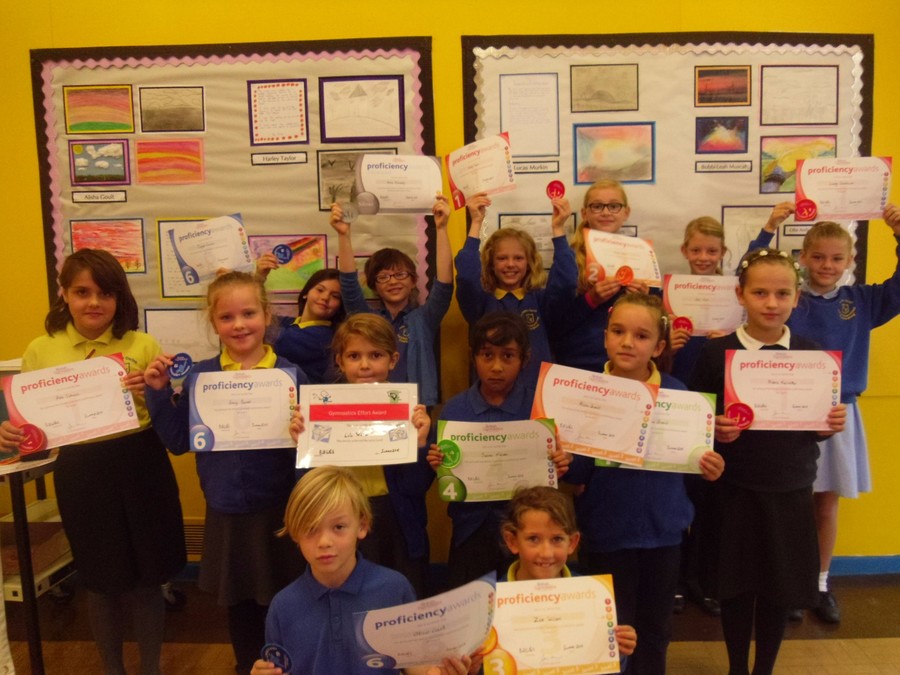 A massive "Well Done" to Alex, our wakeboarding champion, who won the under 9's Wakeboarding World Championships in Portugal earlier this week.
We would like to announce that we have been awarded the AfPE quality mark in PE - with distinction!! We are very proud of this as it means that the whole of the country now know just how good our P.E. provision is within our school! We would like to thank ALL of the staff for their hard work in achieving this award!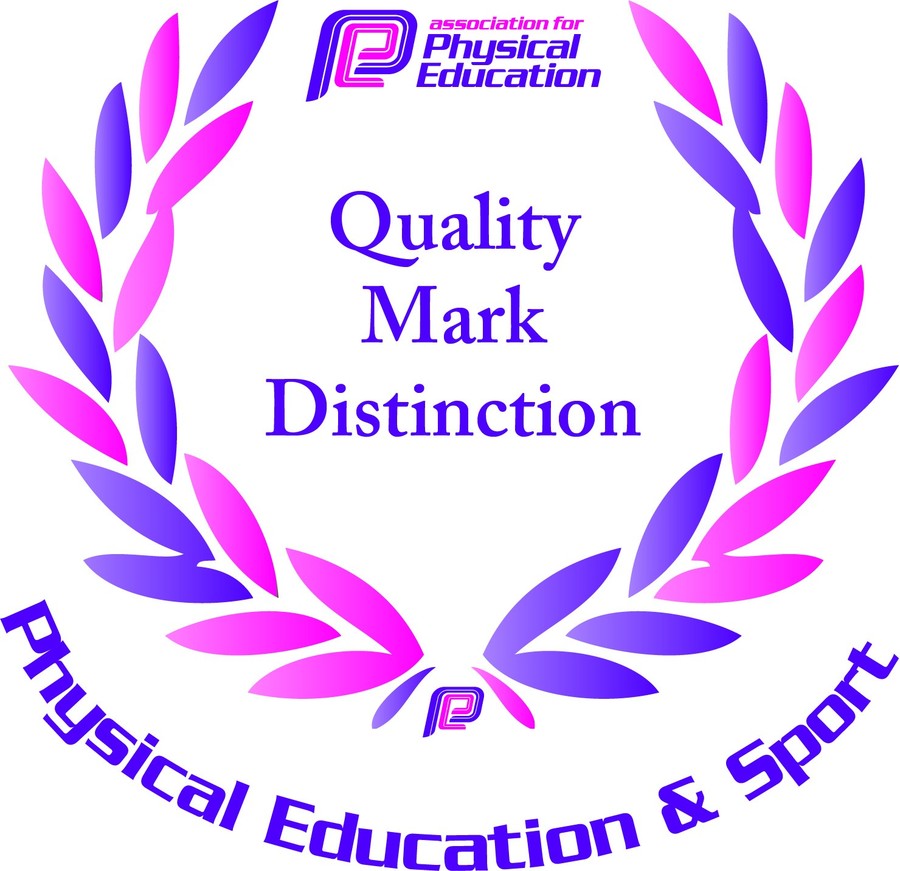 Congratulations to 3 members of our staff who received national awards which they have been working very hard on for a very long time!
Miss Hill and Mrs Reed (From Tilney) both spent a year working on gaining their NPETCS qualification, which means they are trained to a very high standard in P.E. and are qualified to teach P.E. lessons to all of our children.
Miss Liddle has been working on gaining the Level 4 qualification in the Primary PE Subject Leader award.
Congratulations to all staff for all of their hard work and success!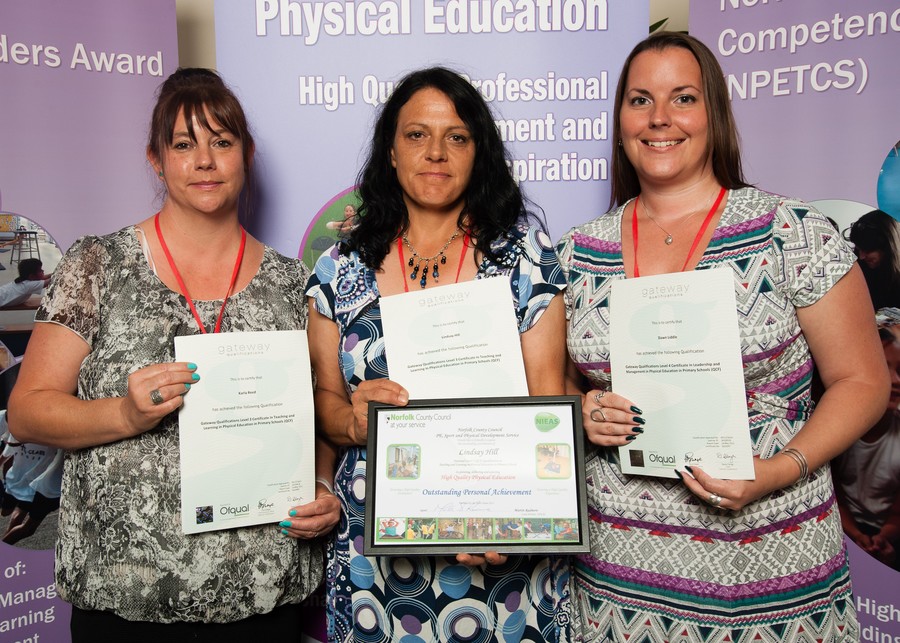 Well done to these two who got their rosettes and medals for being horse riding and football champions! It's lovely to see so many out of school sports being celebrated in our assembly!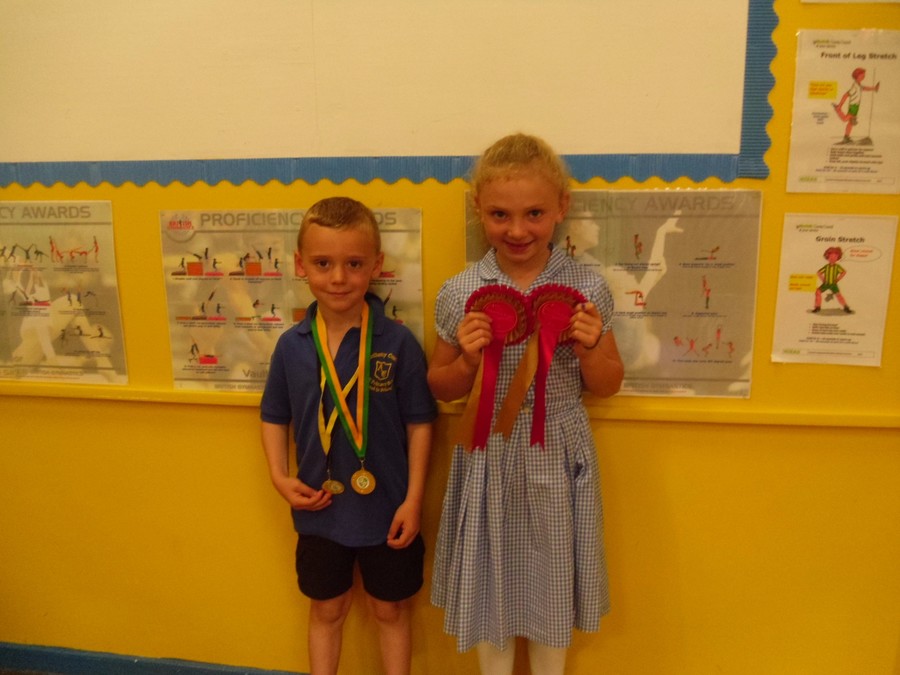 A massive "Well done" to the children from year 3 and 4 who entered the Marshland Cluster Tennis Tournament. Their behaviour was impeccable and they used lots of skills playing matches against the other cluster schools.
Look at all of our sporting champions below who came to celebration assembly to share their success with the whole school! Well done to all of these children for achieving so well in sport outside of school!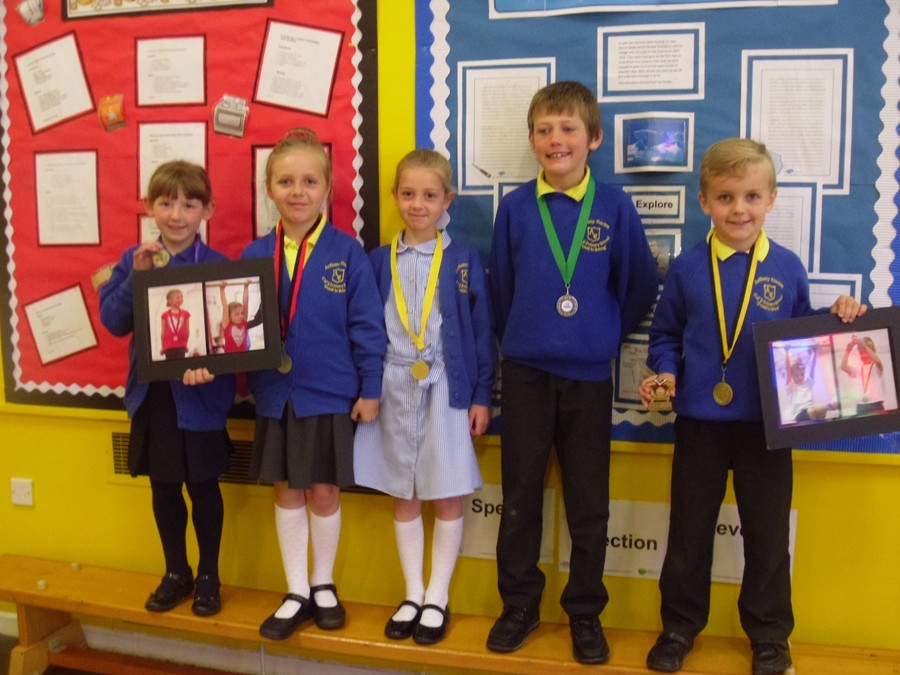 Well done to Alex who has once again done incredibly well with wake-boarding! We are very proud of all of his achievements in this sport!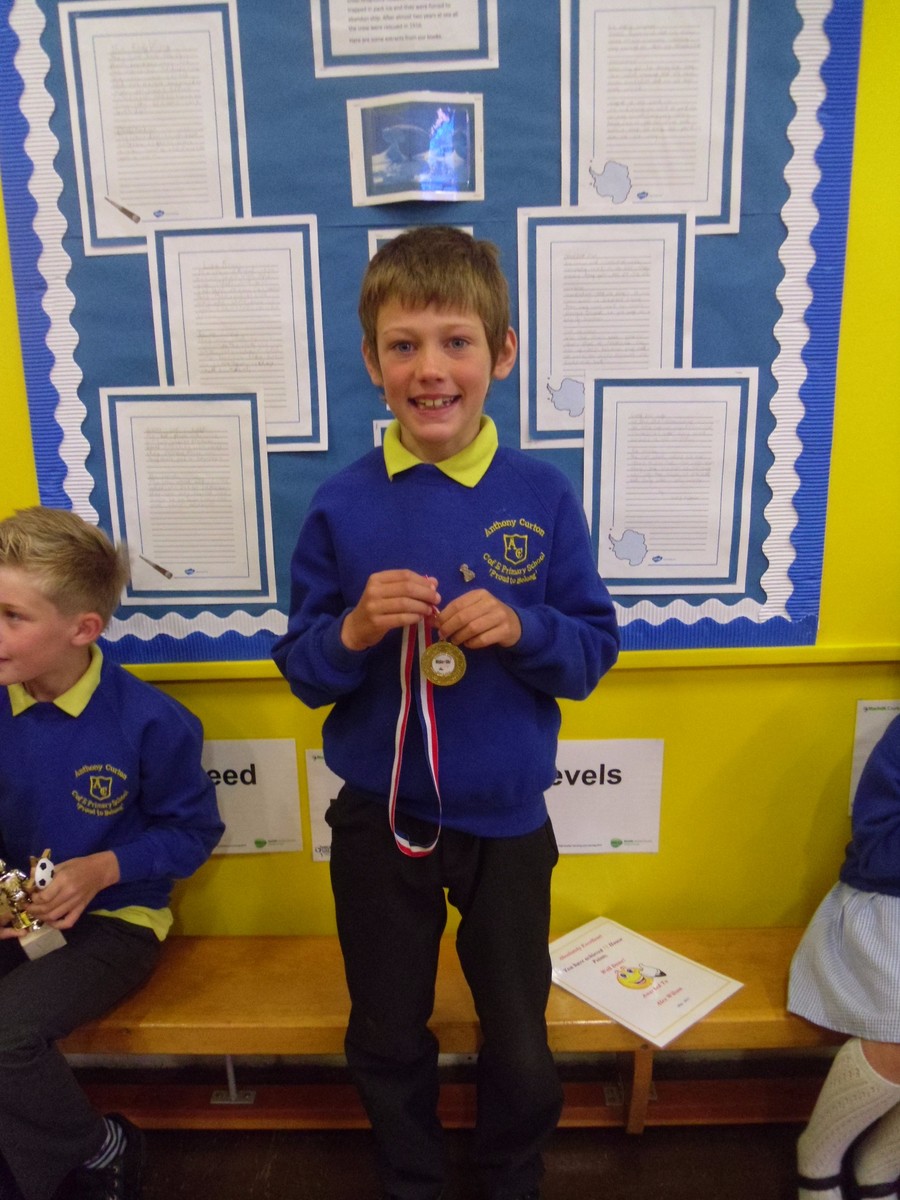 Look at our little ballet champion below, who practises ballet lots outside of school in order to get this certificate and trophy! Well Done!!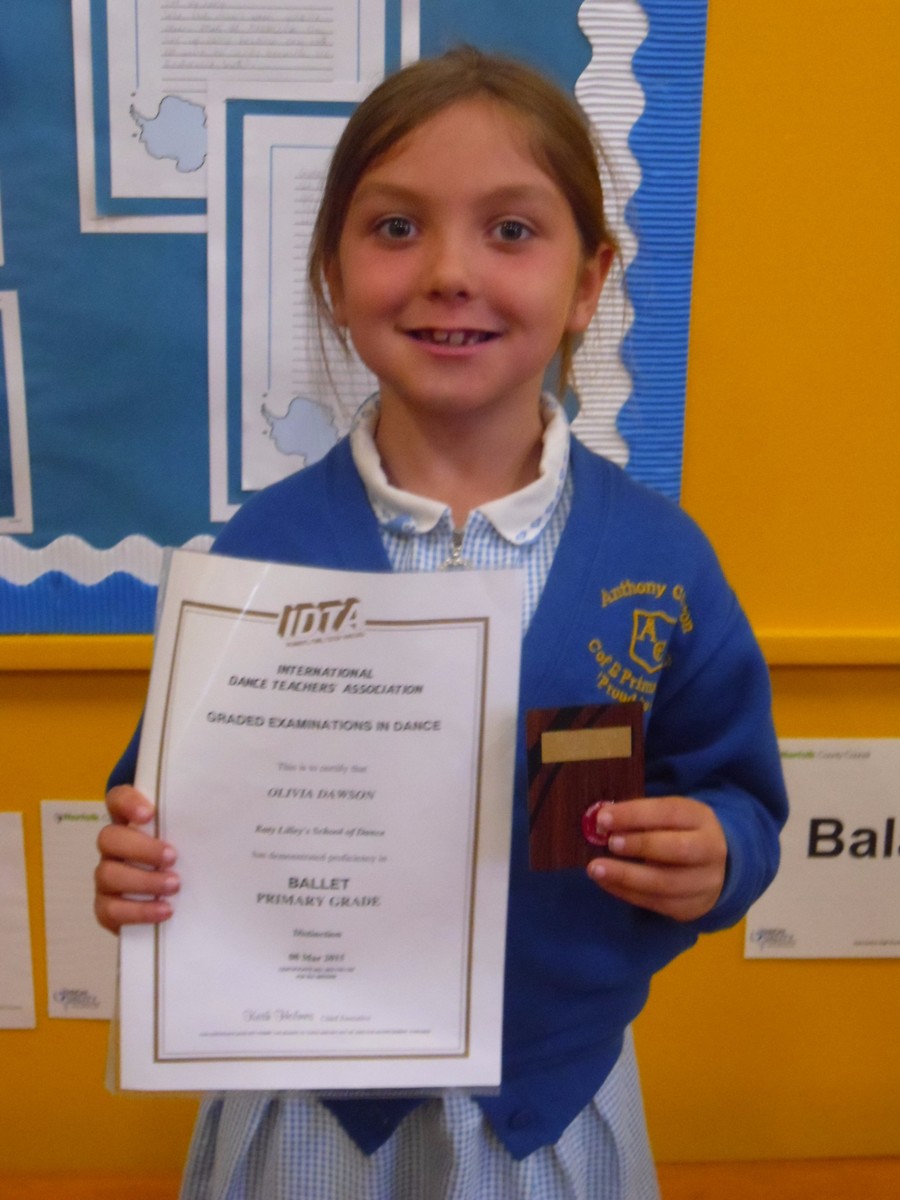 We really enjoyed taking part in the Marshland Cluster Tag Rugby tournament, hosted by our sister school at Tilney All Saints. We practised all of our skills and played some great games. Take a look at the pictures below to see us in action!
Cluster Cross Country Competition
Once again Anthony Curton hosted the annual Cross Country competition. Well done to all the competitors and a special thank you to Mr Wilkinson for organising the event. Our teams did a fantastic job and the children all really enjoyed themselves.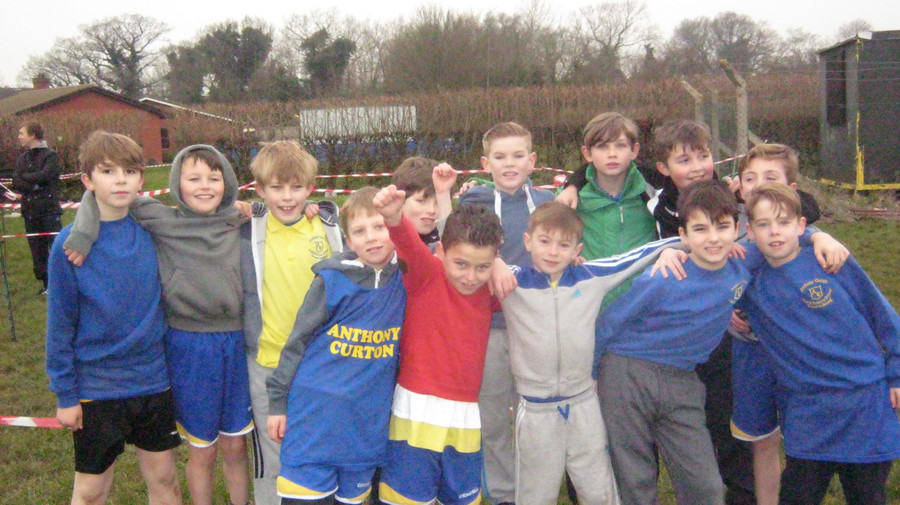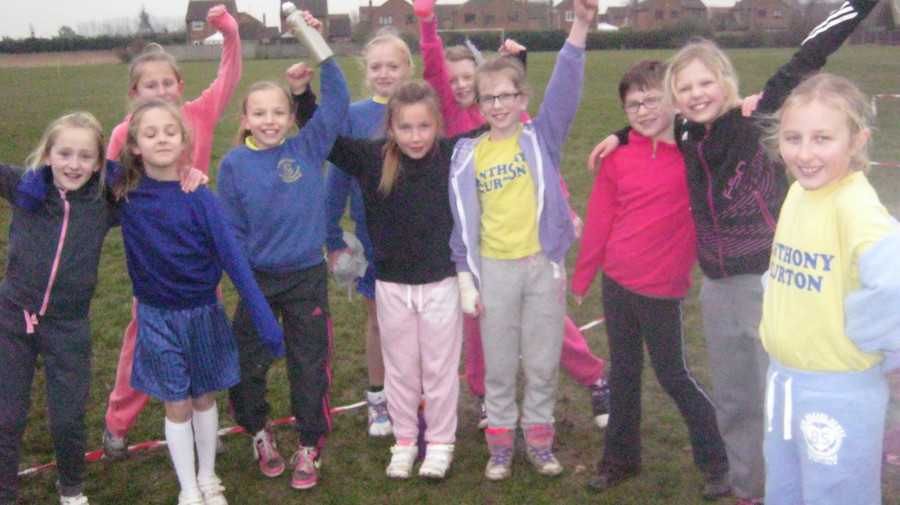 Speedstack Competition
A massive well done to our team of Speedstackers– Oliver Swann, Nicholas Hedges, Charlotte Large and Anna Kennedy who took part in the Marshland Cluster Speedstack competition . They worked fantastically as a team to win the team relay challenge for the first time and we now have another trophy sitting on our trophy shelf! Well Done.
Hockey Festival
6 Year 6 children recently took part in a hockey festival at Lynn Sport. They had a fantastic day and were able to improve their hockey skills.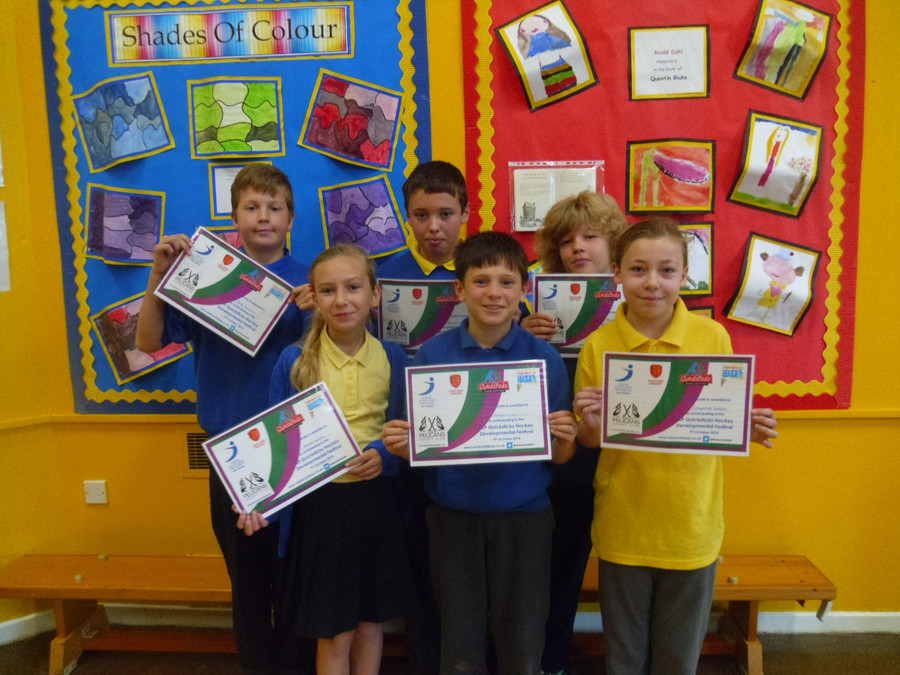 Key Stage One and Reception Sport Morning
During the morning of their Sports Day, Key Stage One and Reception had the opportunity to take part in lots of different sporting activities such as: ball games, skipping and Maypole dancing.
Kwik Cricket Champions!
We took part in the Cluster Kwik Cricket tournament and won every single one of our matches which meant we came away with yet another winners trophy! Well done to our sister school Tilney All Saints too, they also won all of their matches except when they played us of course!
Archery
Key Stage Two were given the opportunity to have an Archery taster session before deciding if they would like to join the Archery club beginning after Easter.
Cluster Tag Rugby
We sent two team to take part in the Tag Rugby Tournament at Tilney All Saints. It was a really close competition but we managed to come second!
Cluster Cross Country
The Cluster Cross Country event took part at Anthony Curton again this year. All of our runners did a fantastic job whilst the year six Marshals made sure everything ran smoothly.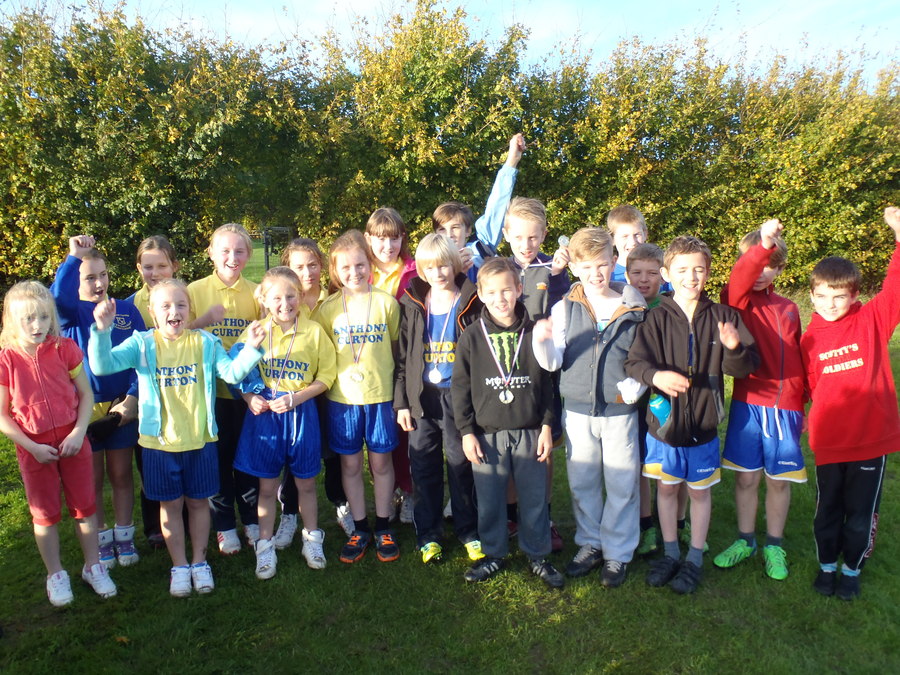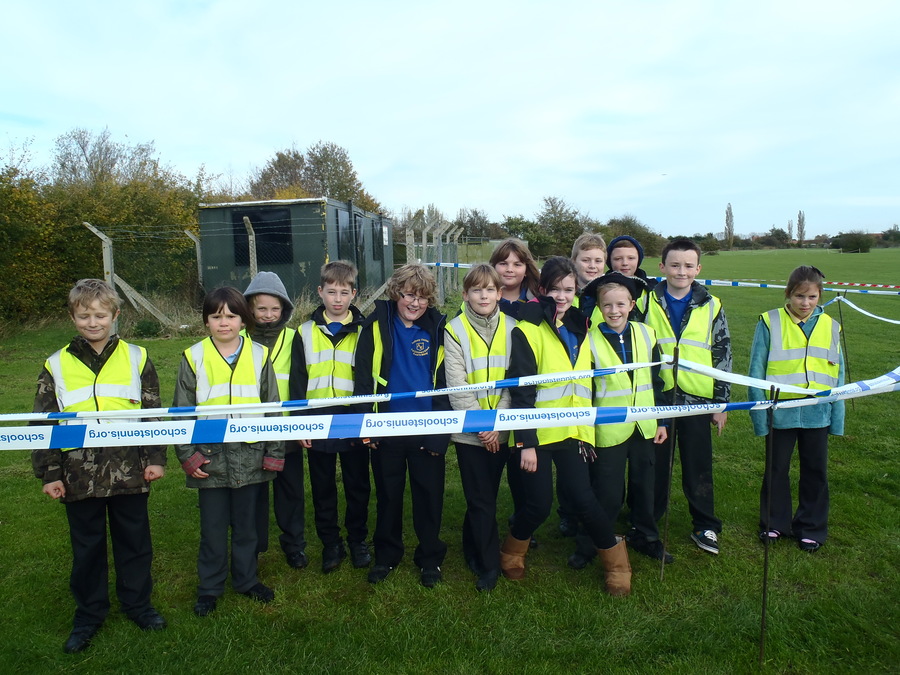 We are incredibly proud of all of our trophies. Here they are on display by the front entrance.
Cluster Athletics
For the fourth year running, we won the Cluster Athletics competition at Walpole Highway Primary School!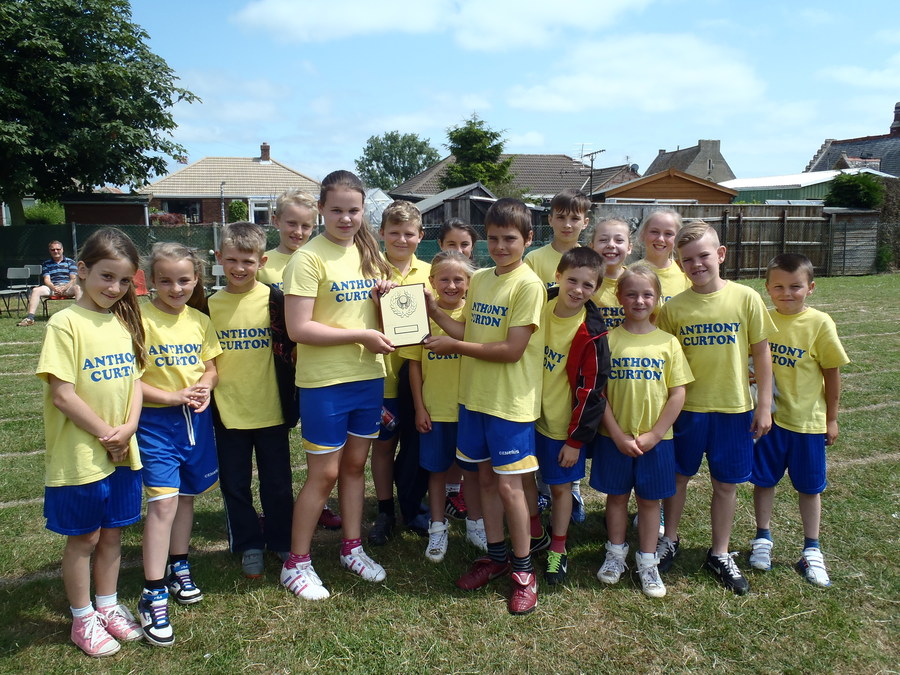 We played brilliantly at the Cluster Tennis Tournament.
We entered the Marshland Cluster Rounders event along with our sister school. We played brilliantly and came second!
Anthony Curton Team And with the Tilney All Saints Team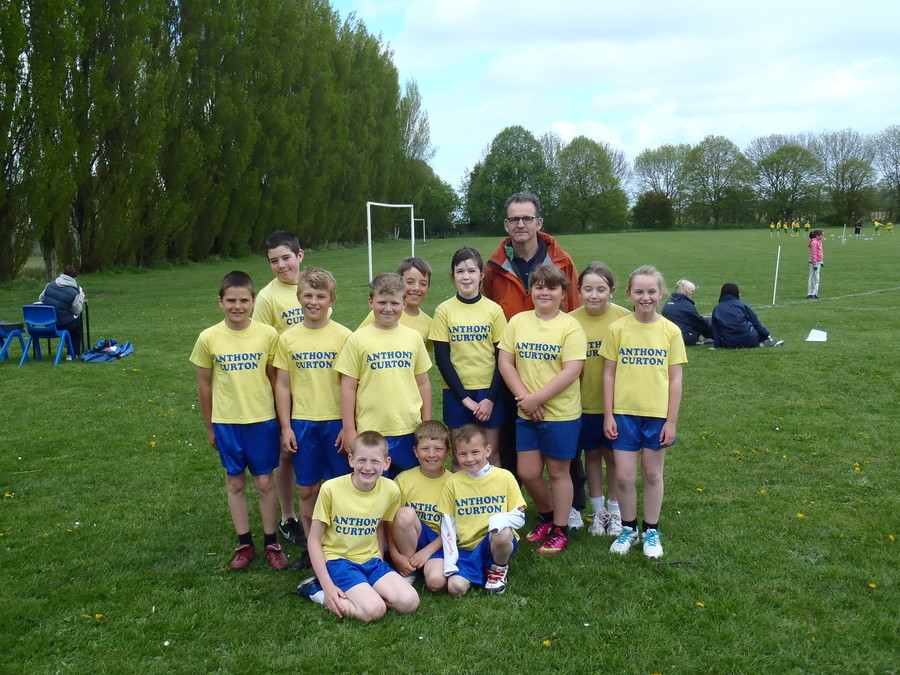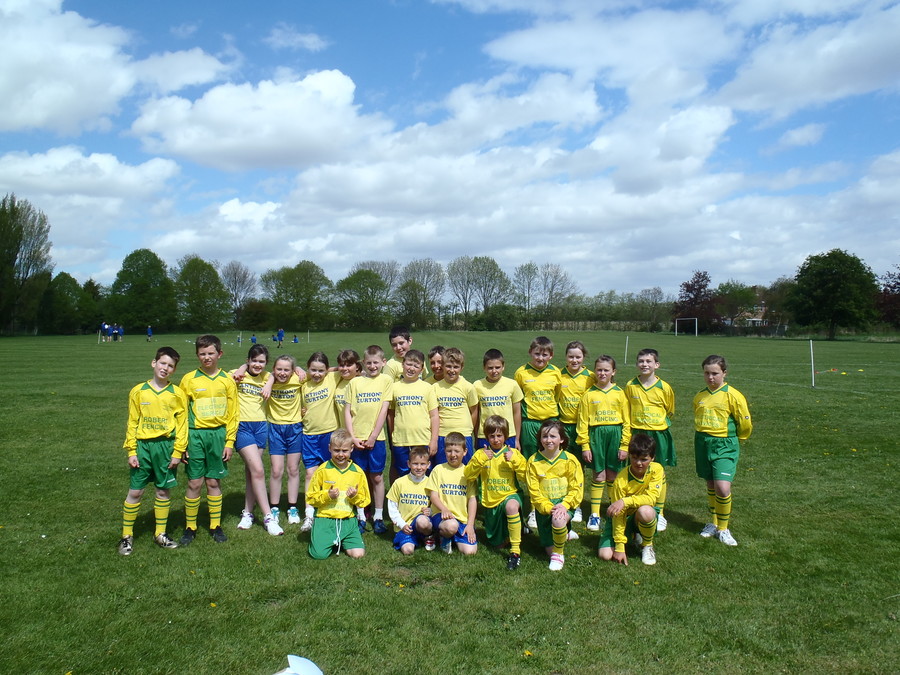 Chartermark - High Quality Sport Award
We are delighted to announce that the school has again been awarded the very prestigious Chartermark, in recognition of the High Quality Sport and PE provision offered to all our many thanks to all those who teach sport within school time, and who provide sporting extra curricular clubs and activities.
Special thanks to Miss Liddle, for all her hard work putting together the very extensive portfolio of evidence.