"They (children) were proud of their contributions to school life, for example...by raising money for charity." Tim Coulson, Regional Schools' Commissioner, January 2017
Meetings take place on a regular basis with Miss Symonds in the Year 2 classroom.
Welcome to our new School Councillors for 2017/18

School Council
Below are this year's School Councillors.
Year 6: Jaylyn and Tom
Year 5: Ollie and Tianna
Year 4: Ryan and Lola
Year 3: Chloe and Zack
Year 2: Olivia and Archie
Year 1: Jason and Poppy
Year R: Mylee and Alex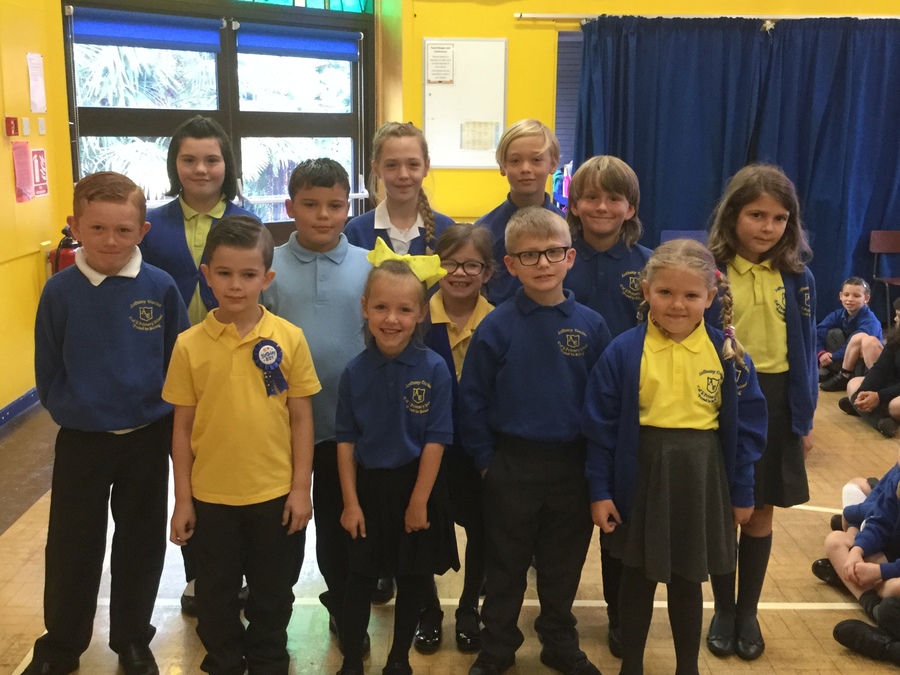 We are very proud to announce this year's House Captains!
St Patrick - Polly and Roman
St David - Della and Isla
St Andrew - Harrison and Jack
St George - Olivia and Ella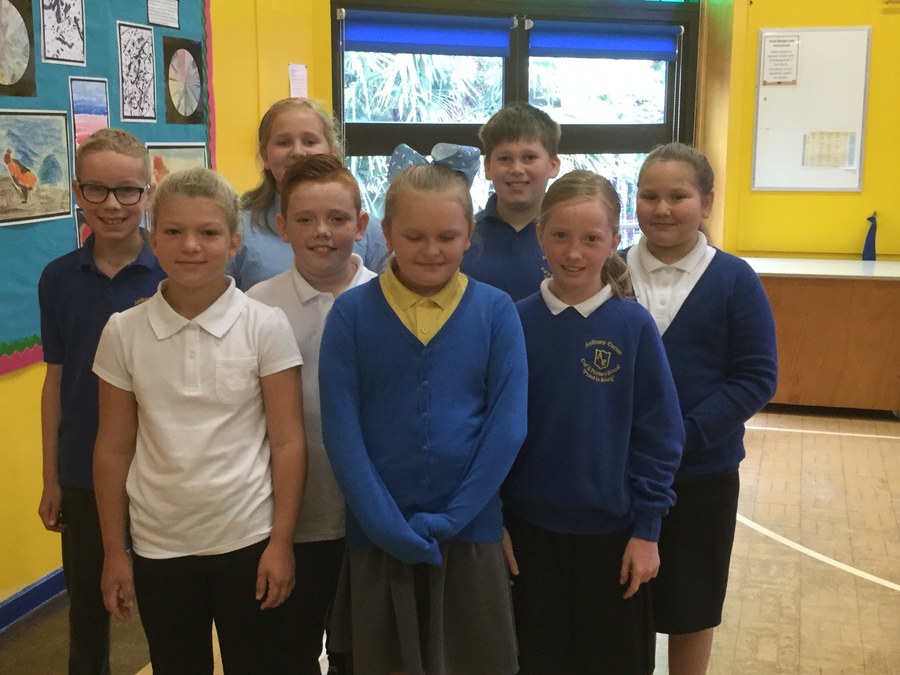 Thank you to everyone in both schools who helped raise money for "Silly Sock Day" in order to raise money for Autism Awareness. Here are our two Year 6 Councillors proudly displaying our certificate of thanks.
Thank you for helping our school to support several different charities recently. The children managed to raise £218 for Comic Relief and £117 was raised, between both schools, for Silly Sock day in support of Autism Anglia. We have also managed to raise £136 by wearing bandanas and having silly hair in aid to raise awareness of brain tumours.
School Council members from both Tilney and Anthony Curton visited the Queen Elizabeth Hospital to present a cheque for the money we have raised recently.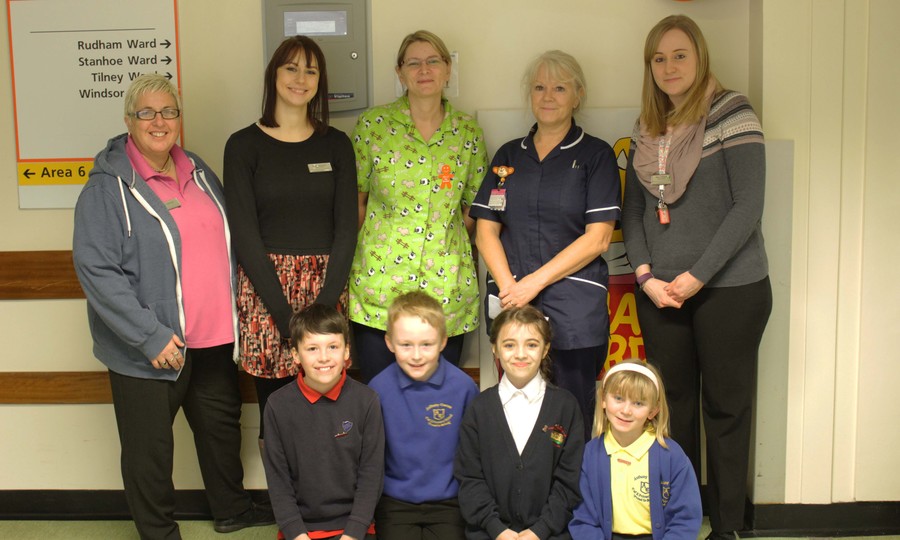 Queen Elizabeth Hospital
Members of the school council from both Anthony Curton and Tilney All Saints visited the Children's Ward at the Queen Elizabeth Hospital in Kings Lynn. They were able to present them with a cheque for £1500! Thank you to everyone at both schools for their fundraising efforts over the last few months.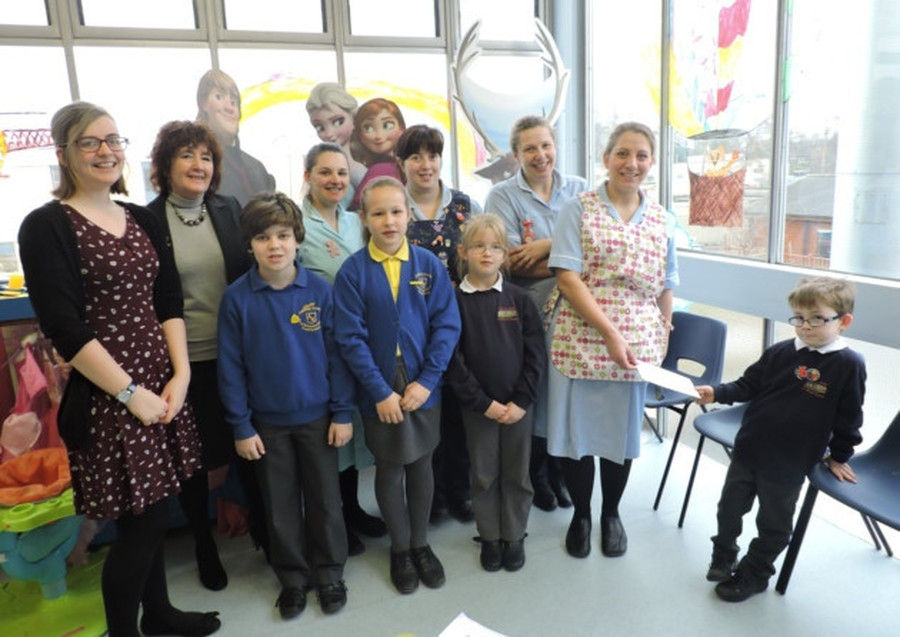 Block Fen
Some of us went along to Block Fen to present our cheque for £577! Kirstyn kindly showed us around and we got to meet lots of animals who are being cared for while they wait to find new homes.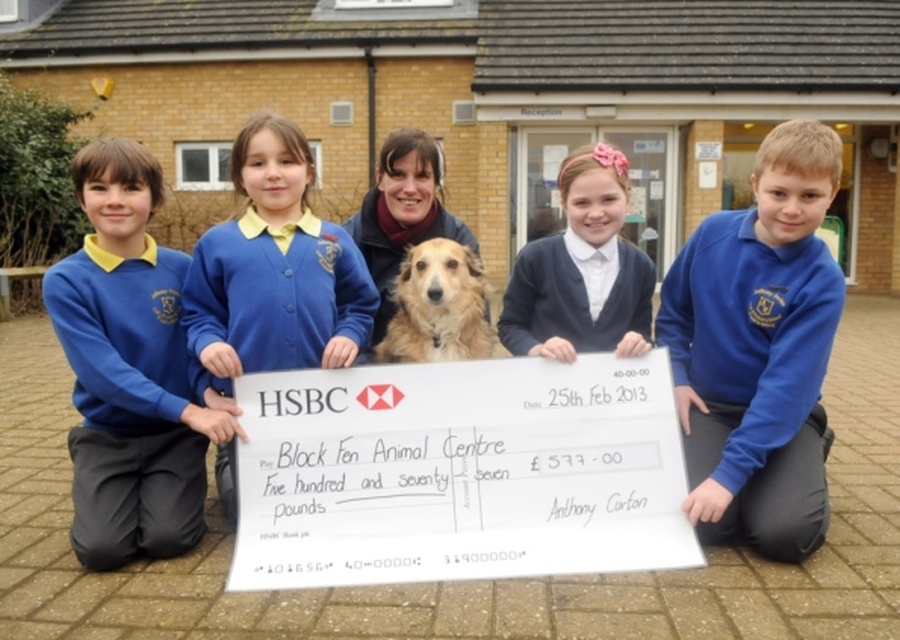 We had a meeting with the Bishop of Ely when he came to visit
Why we are proud of our school
We have lots of equipment to use in lessons and at playtimes

We have a good playground and field with a fun trim trail to play on and a wildlife area

We like our new willow tree

We work really hard

At this school we feel really safe

Our school building is well looked after and always tidy

We have yummy cooked dinners cooked in school by our own cook

We look after each other

We are well behaved in school and when we go to other schools for competitions

We have lots of clubs we can join

We show good sportsmanship

We achieve lots, especially in sports so we have lots of trophies

We are a church school

We can walk to church for special services

We have lots of adults to help us

We have a school council so we can share our ideas.



NON UNIFORM DAYS
School Council have asked if, each week, the class with the highest attendance can be allowed to come to school in non-uniform for one day only. I have agreed to their request.
Attendance at school is high, and I am delighted the children enjoy coming to school and want to be here.
Each Monday in assembly the classes with the highest attendance are announced and a class award is given. From Monday , the class with the highest attendance will also be allowed to wear non uniform on the Tuesday, if parents or carers agree. This is not compulsory – and appropriate clothing and footwear should be worn.
Families will be notified by text on the Monday if their child is in the "winning" class. A class photo will then also be displayed on the TV system for that week.
I do hope you will allow your child to join in the fun.
Regards
Anne Senior
Head Teacher
(on behalf of School Council)