"The pupils were very enthusiastic about the school and grateful for the high-quality support they received." Tim Coulson, regional Schools' Commissioner, January 2017
We are very proud to be able to tell you that our school continues to be a "GOOD" school!! Thank you to all of the Parents, staff and children for all of their support during our inspection!
We had some very cute chicks in school. Thank you Maya, for bringing them in for us to see!
Year 6 went to Kings Lynn Fire Station as part of the Crucial Crew event, to teach the children all aspects of safety, from using the internet to drug use, from learning about beach safety, environmental flooding and safety around the home.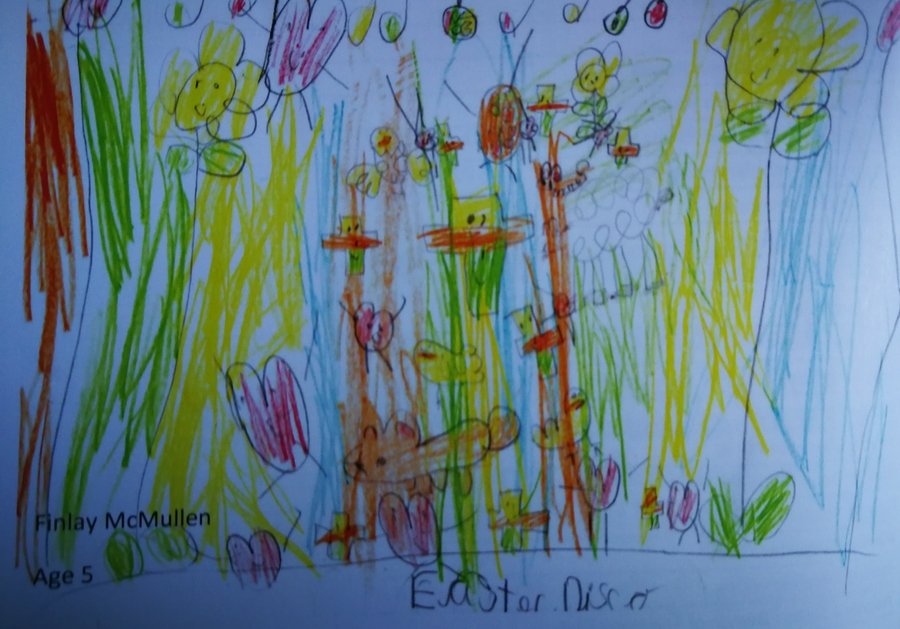 Finlay, in Year 1, entered a picture competition run by the Walpole Crier. He won a prize for his super drawing of a warm Spring day - which we have waited so long for!! Well done Finlay!
A huge 'thank you' to everybody who took the time to bake cakes for our Easter Cake Competition. School smelled delicious! The winners were: Natalia in Reception Class, Jasmine in Year 1, Oscar in Year 2, Evie in Year 3, Riley in Year 4 and Lola in Year 5. Well done everybody!
Mr Stapleton came in to school and gave us very loud, but impressive drumming display! He told us all the different drum names and types of cymbals. It was very interesting!
We had a lovely visit from the Mayflower Primary School in Leicester, who have been writing letters to our Year 3 children. We took them on a walk around the village and showed them inside our beautiful church. After lunch, we made Friendship Bands.
We had great fun dressing up for World Book Day!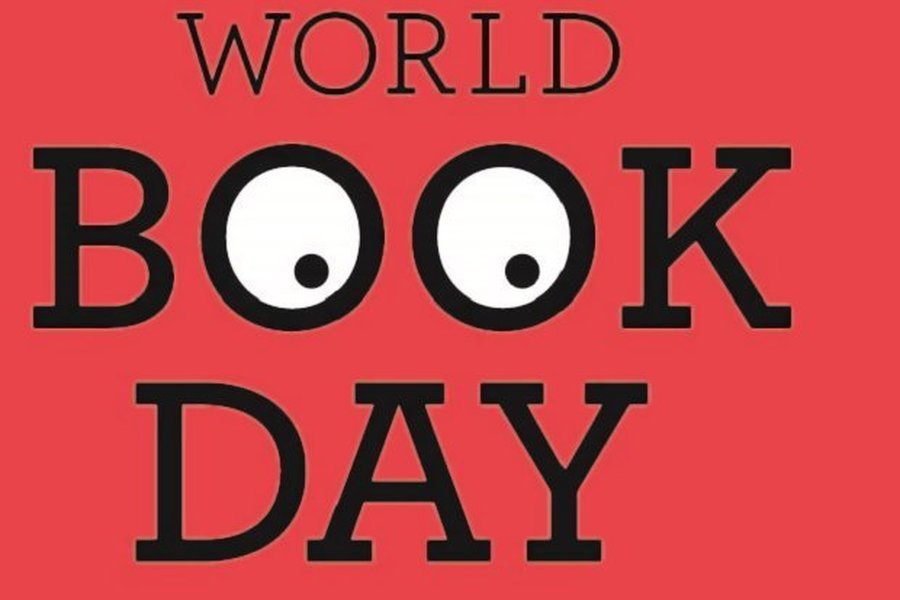 World Book Day will now be held on Monday 5th March
Before the really bad weather set in, and we were forced to close, the staff and children had a brilliant time playing in the snow. A huge snowball fight began, and the children were declared the winners!
We came to school dressed in purple, or a mixture of red and blue, to raise awareness of Children's Mental Health Week. Along with our friends at Tilney, we raised a super £198! Thank you to everybody for supporting us in this event.
Grace's corn snake, Jasper came to visit us in Year 6 as part of our Science research into vertebrates and invertebrates! Even Mrs Senior came to say hello!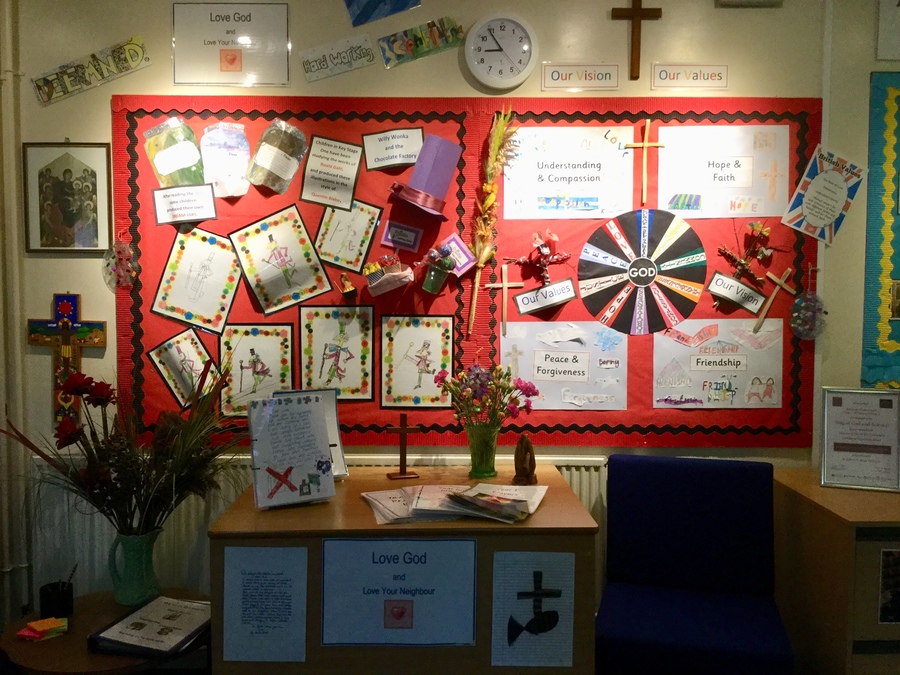 We always have lovely displays around our school. Here is the current one that greets you as you come into the school entrance. Click on 'Classes' to see the displays from the individual year groups, which can be found in the Hall and along the corridors.
Our fabulous stars of this year's Nativity...
We really enjoyed our Christmas lunch, which was cooked for us by Trina and Caroline.
We loved coming to school in our Christmas jumpers!
Our wonderful Choir went to the Village Hall and sang to the Good Companions Club. A lovely time was had by all!
Key Stage 1 did us all proud when they performed their Nativity to their parents and carers. They worked so hard and put on a very polished performance over 3 days!
We had a very special visitor in school this week, and the children were VERY excited!
Year 6 had a fantastic time at Hilltop Outdoor Centre
We had fun dressing up for Children in Need!
We held a moving Remembrance Service at the Walpole St Peter Memorial. At the same time Tilney held a service in their own Church. Both schools observed a 2 minute silence.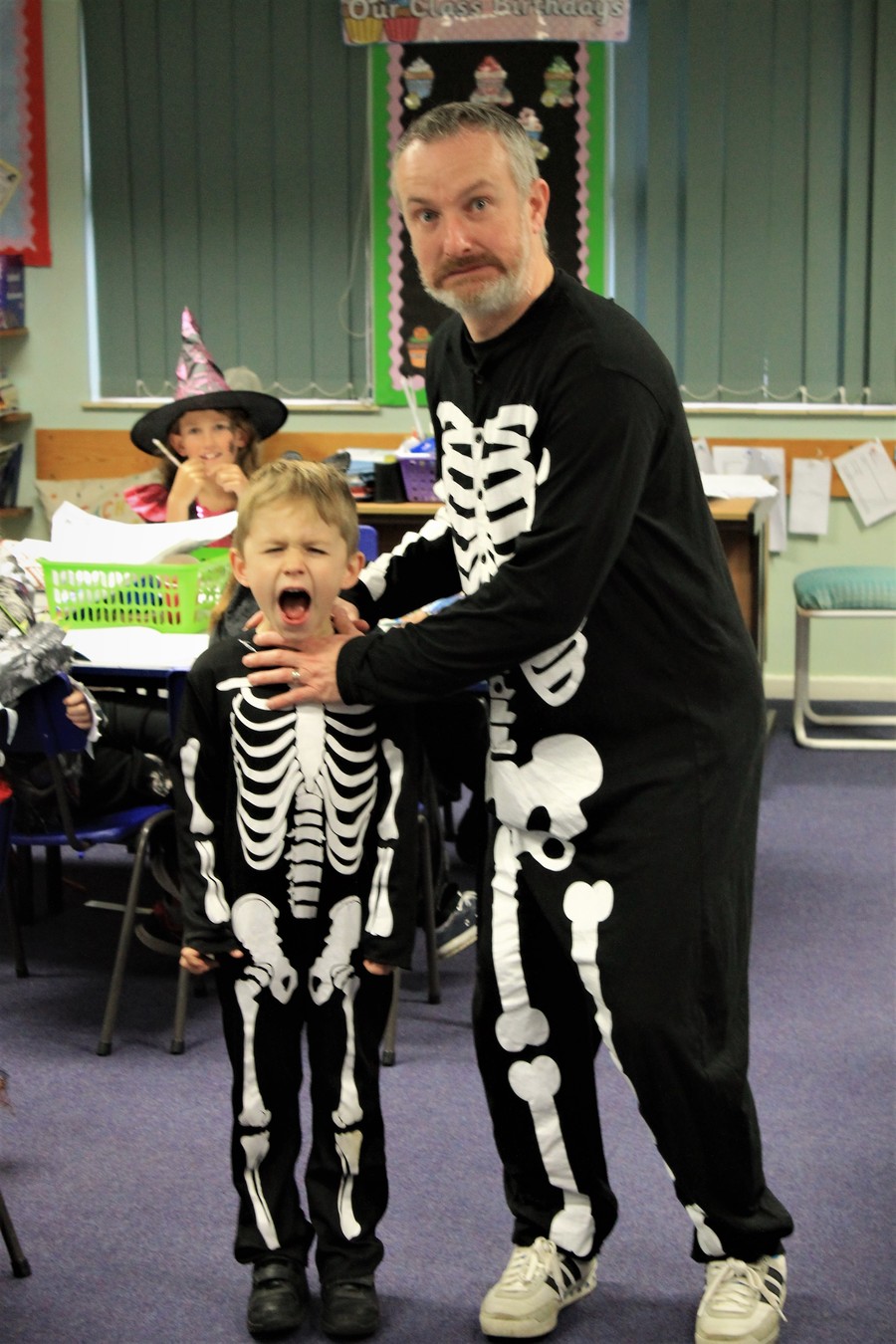 There were some very scary characters in school this week, but it was all for a good cause, as we raised almost £300 for our chosen charity, the Teenage Cancer Trust.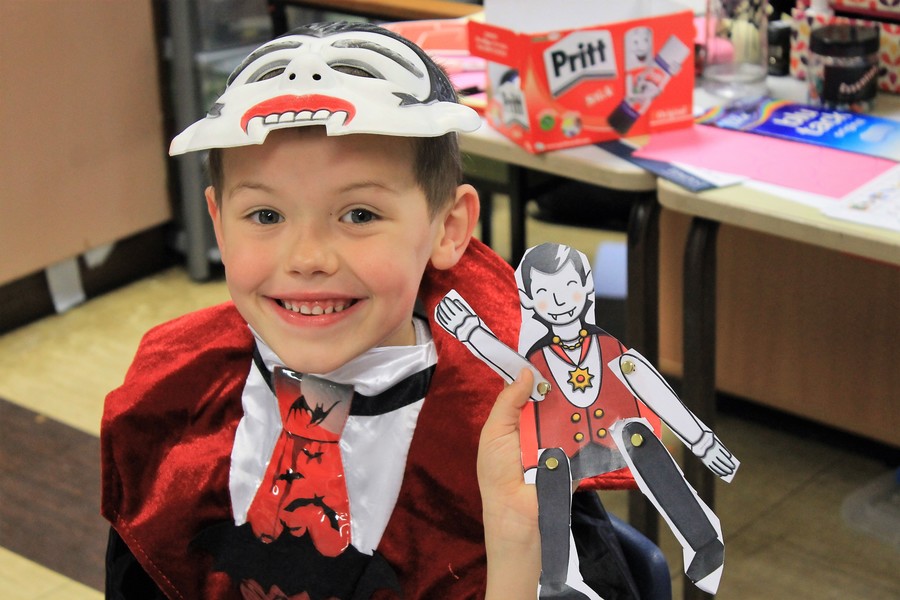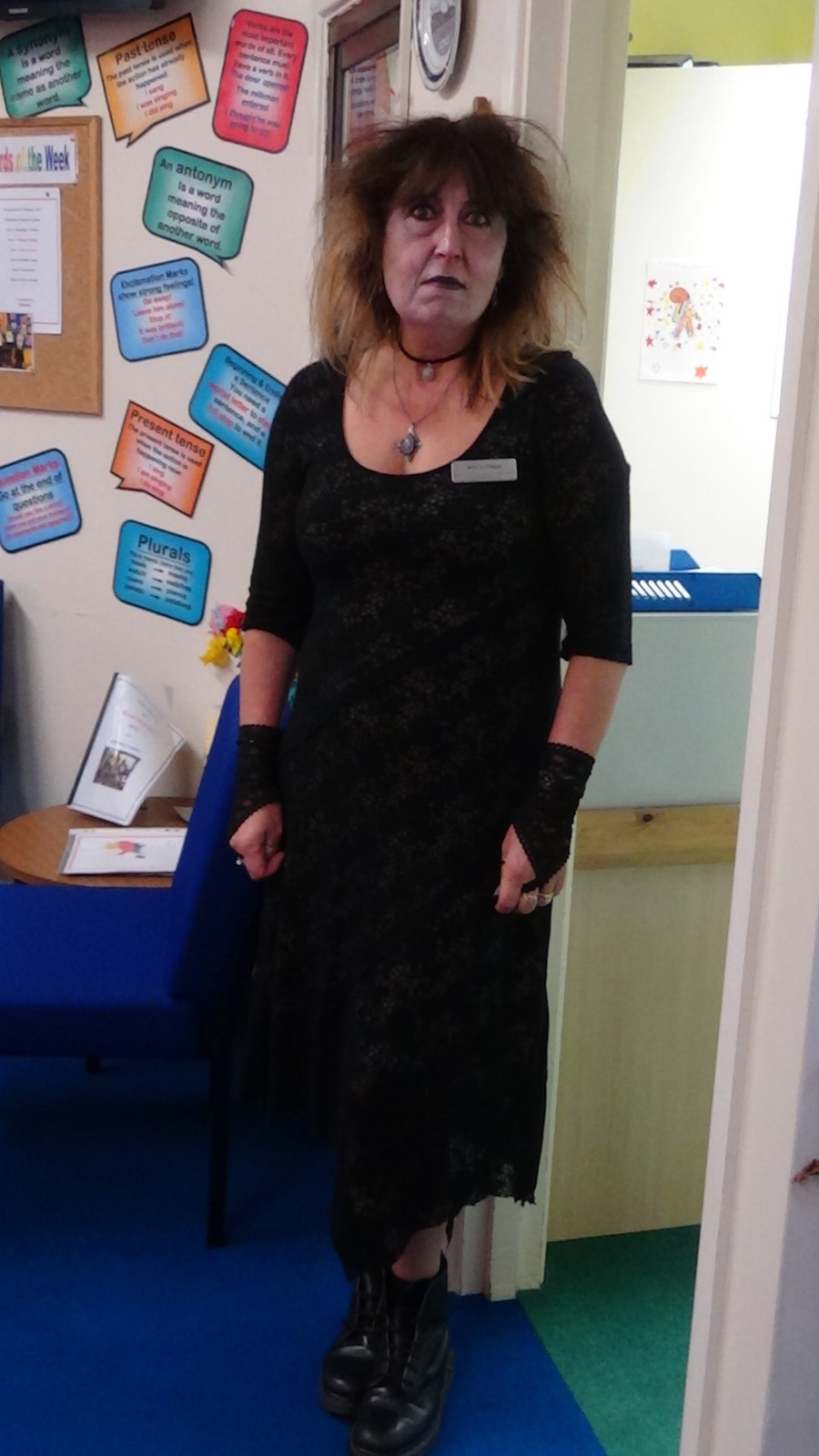 Our school was very proud to help Kings Lynn Food-bank after our Harvest Festival. Marten Klem came to collect the donation from our School Councillors, who happily gave him all of the donations from our grown ups. We hope this food helped people who are more in need than we are.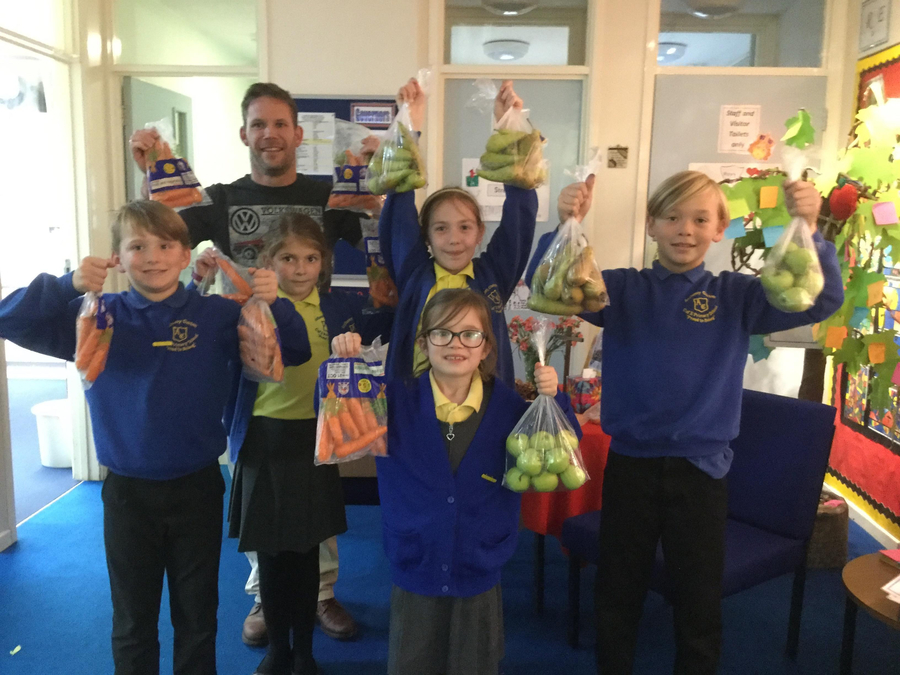 We recently took part in a National Fitness Day. The children loved it and all the teachers took part too!
The children loved seeing lots of exotic animals in school when we had "animal encounters" in school. All children had a chance to feed the animals and learn all about where they come from. Many thanks to the PTA who raised funds in order for our children to have this brilliant experience!
We would like to say a huge "Thank you" for the class set of Hi-viz jackets that have been donated to our school from a very kind parent who won a competition! We like to keep our children as safe as possible, and this will be a huge help!
We are very proud to announce this year's House Captains!
St Patrick - Polly and Roman
St David - Della and Isla
St Andrew - Harrison and Jack
St George - Olivia and Ella
We are very sad to be saying "Goodbye" to our Year 6 leavers from both schools. They have been a fantastic bunch of children and have worked hard throughout their years with us. We wish you all the best for the future and know that you will be fantastic in whatever you choose to do!
We are really proud of all of the children who have taken part in the wonderful production of "Superstan" this year. A lot of worthwhile hard work and dedication went into the show, which attracted big audiences over the 4 nights that it ran. Thank you to all of the grown ups who came to support our children and also for your very kind donations! we look forward to seeing something equally as fabulous next year!
Lots of children from both Anthony Curton and Tilney went to Marshland High School to take part in the cluster music festival. We were really proud of all of our children for all of their hard work!
Thank you to ACFA for organising and running a brilliant Summer Fair. The children loved it and lots of money was raised!
We really enjoyed having a celebration day to mark being part of DEMAT for two years! We had a lovely service in Walpole St Peter's church where the children said what being part of DEMAT meant to them, and how the partnership between the two schools has positively impacted on their education. After the church service all the children from both schools then went over to Tilney for a dance festival, which included many different forms of dance, such as Maypole, Capoeira and Molly dancing. We then all had a fun afternoon with a picnic lunch and bouncy castles. We would like to thank Andrew Read, director of Education for DEMAT, for taking time out of his very busy schedule in order to come and celebrate with us.
PLEASE NOTE: There has been a change of day/time for the Year 6 Class Assembly. It will now be held on 18th July at 6.00pm. This is due to the children needing more rehearsal time as they are going to be performing their version of Macbeth. They are keen to perform it at this time and would very much appreciate their adults coming to watch it.
Take a peek below at some of the learning that is going on around the school.
Around the classes
We recently had a lovely Easter Service in Walpole St Peter's Church, blessed by Rev. Barbara Buton. Have a look at the pictures below to see the wonderful work that the children created for it.
Easter Service
The children and staff loved taking part in wearing a bandanna/having silly hair in order to raise money for Autism Awareness.
The children had great fun at school on Red Nose Day when we dressed in red and wore our noses in order to support Comic Relief. We also had a cake sale in order to raise some extra money - thank you to all of the parents who got involved!
Reception class have had some very cute and exciting visitors this week. They have carefully watched the eggs in the incubator and then they started hatching! The children from the whole school have had a chance to go and see the baby ducks who are doing well.
Ducklings!
World Book Day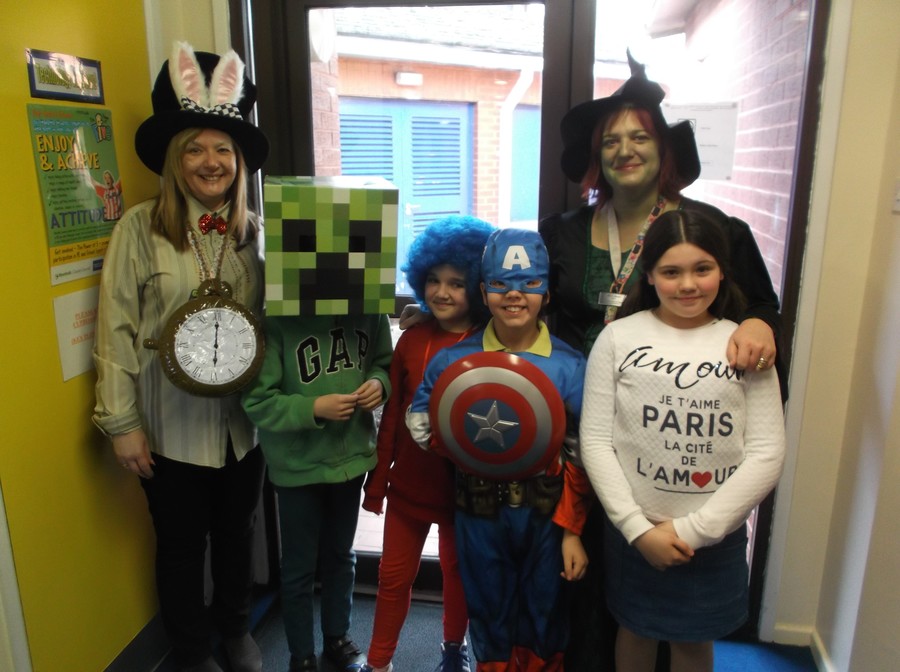 Both the staff and the children enjoyed dressing up for World Book Day! We had all sorts of characters in our school who enjoyed listening to some of the Teachers' favourite stories and worked hard on book based activities all day. There was lots of laughter and smiles all around the school throughout the day!
World book Day
The children are loving the Superstan Rehearsals learning all of the words and dances! We look forward to being able to watch the whole performance in a few months!
Superstan Rehearsals
Look at some of the displays around our school!
The children from recorder club had the opportunity to play the songs they've recently been learning in front of the whole school. They did a tremendous job and the rest of the school enjoyed listening to their music. Well done recorder club!
Recorder Club show off their skills!
All of the children and staff enjoyed a lovely Candlemas Service. It is the first time that we have held one of these services, which is a procession of light. The children thought about how to share and found that sometimes when we share we often get more back. Thank you to the parents who came along to the service to support the children.
Candlemas Service
We would like to say a huge "Thank you" to Mr. Cawdery who came in to both schools after the Emergency Services homework. He came in to tell the children all about his work as a policeman and even let them try on his uniform! The children in all classes loved asking him questions - thank you for giving up your time to help our children learn!
A Policeman Visits
The children all enjoyed a visit from Father Christmas and received a small present from him. Many thanks to the Friends Association for organising this special visit!
Santa Visit
Key Stage 2 enjoyed a lovely Christingle service with the new vicar, Revd. Barbara Burton. Many thanks to the Year 6 children who spent time making the Christingles for all of the children.
Christingle
Many thanks to the Friends Association who paid for every child to take part in a circus workshop - All of the children had great fun and learnt some very interesting skills.
Circus Skills
All of the children and staff from both Anthony Curton and Tilney enjoyed a lovely candlelit service in school where we heard readings about the Christmas story and sang some of our favourite Christmas carols.
Candlelit Christmas Service
Mrs Taylor and Mrs Marsh from Anthony Curton, along with Miss Williams from Tilney have worked very hard with the children to perform Sparkle and Shine. It is a wonderful amalgamation of songs and various instruments all played by the children. It has been so popular with the grown ups that we've had to issue tickets for the performances. If you didn't manage to get the tickets that you wanted please feel free to have a look through the pictures below to see the children in action.
Sparkle and Shine!
The children enjoyed a lovely buffet tea before embarking on their second performance of Sparkle and Shine. Many thanks to Helen, the cook at Tilney, for all of her hard work preparing the food for the children - It looked and tasted great!!
Sparkle and Shine Buffet Tea
Take a look below at some of our Nativity stars!
Our Nativity stars!
It's beginning to look a lot like Christmas in our school!!
It's Christmas!!
Year 6 really enjoyed going to the Poppy Line with Otter Class from Tilney. They experienced what a day would be like for children during the was. They had to make their lunch (being careful not to have too much of the rationed food!), try on gas masks, took part in an air raid and looked at old toys. The day ended with a party and Father Christmas coming to see the children.
Poppy Line Visit
Well done to all of Key Stage one and Foundation Stage for producing their wonderful Nativities this year. All of the children performed beautifully and sang some very enjoyable songs. Many thanks to all of the parents who came to watch and support our children!
Nativity
We were very pleased to donate £450.00 to MacMillan Cancer support which we raised from the coffee morning hosted by Mrs Gant. We would like to thank everybody who came for their donations of both cakes and money!
Fundraising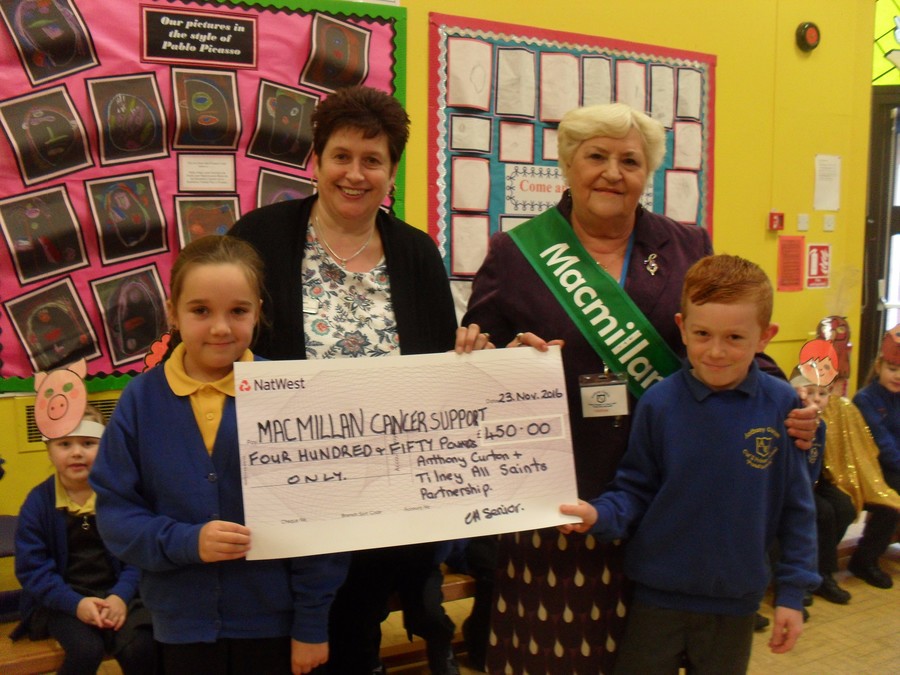 All of the children enjoyed celebrating Children in Need by coming to school in spotty clothes. We managed to raise lots of money for a very worthy cause.
Children in Need
The Planetarium came to visit years 1 and 5 this week to tell the children all about space and what's found there. Both classes had a wonderful time and learnt lots!
Planetarium Visit
Thank you to all of the parents who came to the church to support or Remembrance Service. The children gave thanks for all of the men and women who have given their lives in conflict and laid some poppy wreaths that they had made with their thoughts and feelings written on them.
Remembrance Day
Both Anthony Curton and Tilney All Saints have recently had an Inclusion Health Check, both schools were judged to be effective and fully inclusive schools.
Have a look at some of our wonderful displays that you can find around our school!
Displays around school
We are still enjoying doing creative learning with our friends from Tilney on a Friday afternoon. Look at some of our activities in the pictures below.
Friday Afternoon Fun
We had a lovely Harvest Festival in Walpole St. Peter's Church earlier this week. The children enjoyed meeting the new vicar, Barbara Burton and led a fantastic service, which was blessed by Revd. Martin Dale. Each class contributed to the service with various pieces of work, ranging from singing with actions to thoughts on the meaning of Harvest and Prayers.
Harvest Festival
Have a look at some of the brilliant displays that the children have produced to help keep our school happy and bright!
Some of our displays
Have a look at our little Reception children settling in very well! They are making brilliant use of their outside area and are keeping Mrs Nickerson very busy! Don't forget to head over to their class page regularly to see photos and updates of the things they will get up to throughout the year!
Reception Class Settling in!
Children from both schools enjoyed a lovely day out at Weeting Steam Rally. They got to see lots of tractors, engines, horses and even got a ride on a miniature train!
Weeting Steam Rally
Lots of our children went to Marshland High School to take part in the Marshland Cluster Music Festival. We had lots of different talent on display from singing, piano playing, flute and ukulele as well as brass instruments. We are very proud of our children - and some even won awards.
Marshland Music Festival
The PTA organised a very successful Summer fair, which helped raise funds for our school. The children and adults had a very enjoyable time. We would like to say thank you for all of the hard work and effort that went in organising it!
PTA Summer Fair
DEMAT Celebration Day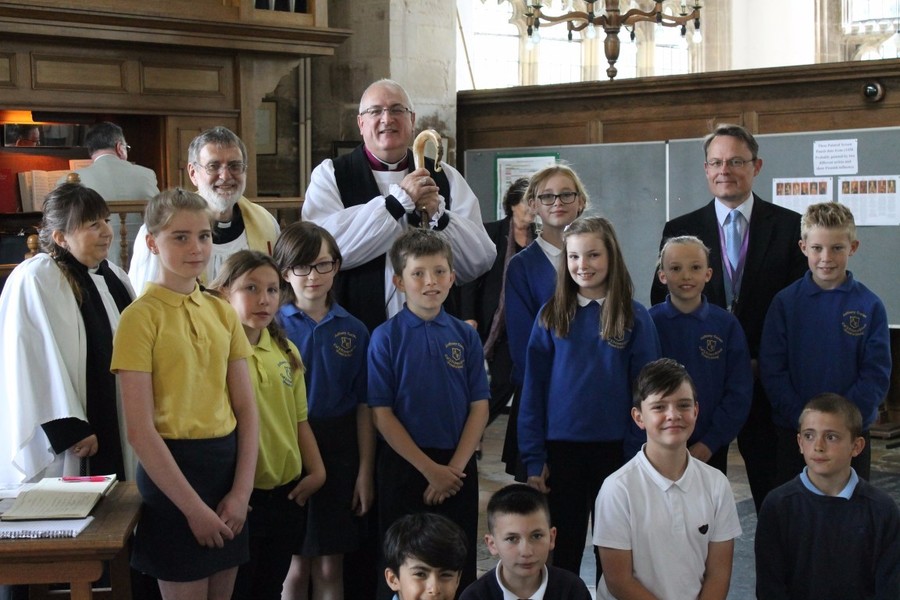 The children from both schools thoroughly enjoyed our celebration day - celebrating the anniversary of our schools becoming part of DEMAT. We had a lovely service in the church with lots of very important people, including; Andrew Read (The director of education for DEMAT), Bishop Steven, Revd. Martin Dale and Revd. Barbara Pearman. After the service we all went over to Tilney for a picnic with our grown ups and then an afternoon of fun!
DEMAT Celebration Day
The children from our school practised reciting a poem for the poetry recital. The two children pictured below were very brave and performed their poem in front of an audience (and their parents!). Well done girls, you performed your poems brilliantly!
Poetry Recital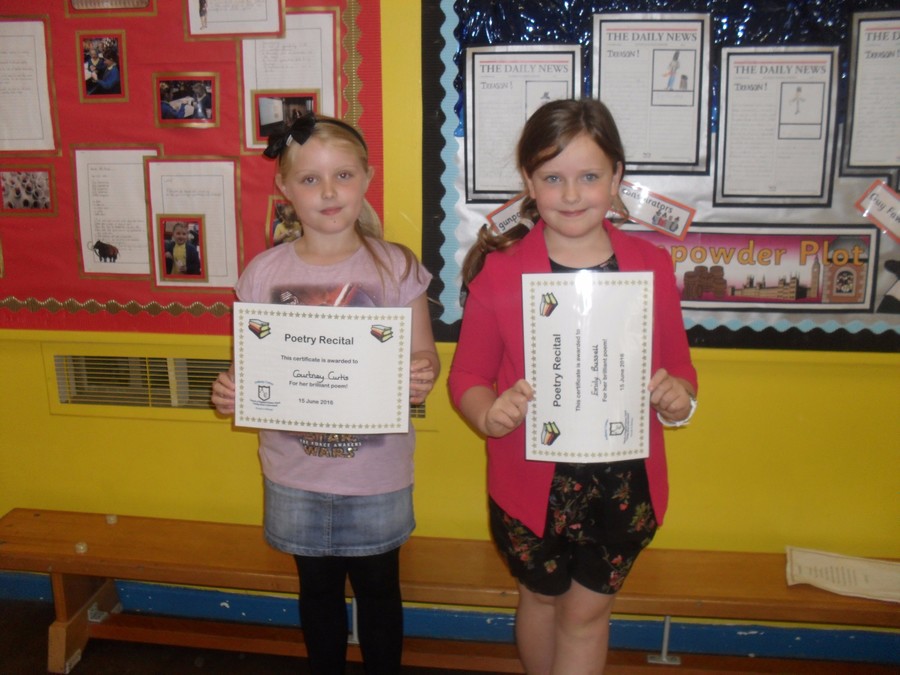 Reception, Year 1 and Year 2 loved their trip to Hunstanton! They went paddling in the sea, collected sea shells and build sand castles on the beach. When they got to the Sealife Centre the children learnt a lot about different creatures and even got to hold a starfish and some children got to hold a crab!
Key Stage 1 Hunstanton Trip
We are delighted to be holding another Reading Cafe on Wednesday 22nd June at 2.30pm for Key Stage 1 parents. Please feel free to come along if your child is in Key Stage 1 so that you can enjoy reading and doing activities with your child.
The staff of both Anthony Curton and Tilney All Saints performed a school pantomime for our children. It was based on the story of Cinderella - and written by the very talented Mrs Taylor. The children loved it - and so did the staff, as you can see from the photos below! It was a brilliant afternoon!
Staff Panto
Thank you to all of the parents who came to support the children while they were showing off their Maypole Dancing skills! We had a lovely afternoon, organised by the PTA, celebrating the Queen's 90th Birthday. The children had a chance to ice cakes, make models of Buckingham Palace and create bunting - with the day being finished off by some maypole dancing, singing the National Anthem and collecting a special coin to commemorate Her Majesty's 90th Birthday!
As well as dancing and singing the National Anthem we also had a picnic lunch outside on a fairly cold and grey day - how very British!!
Some of the Kings and Queens who turned up to help Her Majesty celebrate!
We all dressed up in red, white and blue to celebrate the Queen's 90th Birthday!!!
The Queen's Birthday
The children and adults in the school observed a minute's silence for the terrible events that have taken part in Brussels. The older children discussed the events and had some very thoughtful questions and comments about it.
A Thoughtful Moment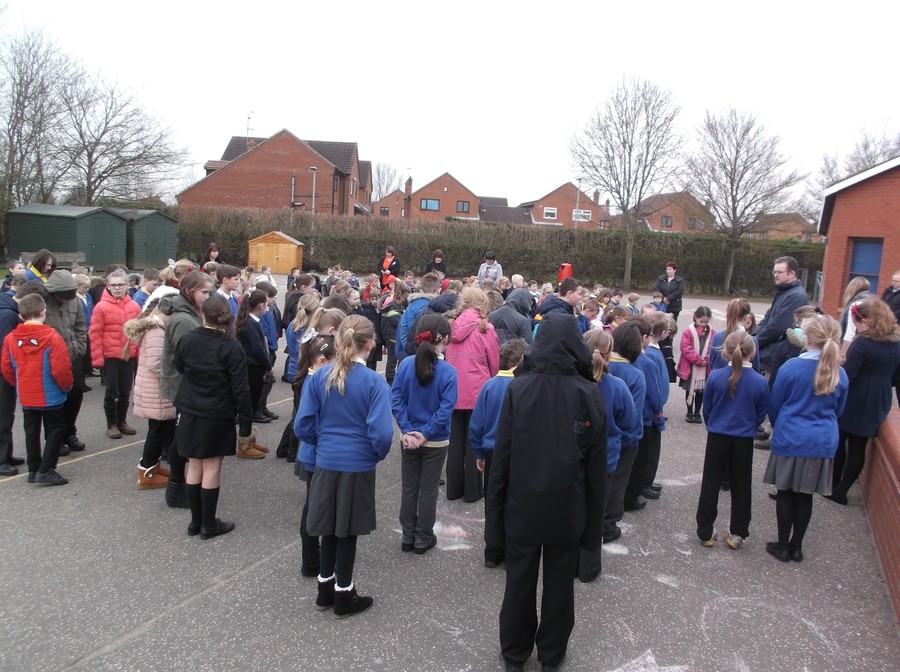 Thank you to the PTA who organised and very successful and fun "Bunny Hop" for our children! The whole school had great fun, and although not all of the sponsorship money has been collected yet, we have already raised over £300!!
PTA Bunny Hop
Our school was filled with colour recently when we all dressed up for World Book Day! We dressed up as characters from nursery rhymes, classic stories or people from fairy tales. Thank you to all of the parents who put lots of effort into the costumes - they looked wonderful, and the children had a great day!
World Book Day
Thank you to everyone who took part in our "Bandanna Day", where we all came to school with crazy hair or wore a bandanna in order to raise money and awareness of brain tumors. There were some very odd hairstyles - and it looked like the children had lots of fun designing their own hair!
Crazy Hair Day
The children in Reception class were very excited to come in to school today and find that some of the ducklings had hatched over night! We have got 3 very healthy ducklings chirping in their home...and we're anxiously waiting for the last 4 eggs to hatch! Have a look at the pictures below to see the journey they have gone through!
Ducklings Hatch in Reception Class
The whole school were excited when we had visitors who told us all about Chinese New Year. We got to see some Chinese clothing, experience some musical instruments, learnt about the culture and even had a big Chinese Dragon walking round the Hall!
Chinese New Year
Take a look at some of the fantastic displays around our school at the minute!
Our children like to share things from outside of school in Friday's Celebration Assembly. These two are really proud of their dad for rescuing a man from a car which was on fire. They told the whole school about how proud they are - and it made it into the local paper - well done dad!!